A German court decision relating to assisted suicide could prove to be unconstitutional. The 2017 ruling had ordered the Federal Institute for Drugs and Medical Devices (BfArM) to decide for itself when to hand out lethal medication to suicidal individuals.
However, Udo di Fabio, a former judge on Germany's Supreme Court and an attorney representing the BfArM, published a legal opinion on Tuesday casting doubt over the constitutionality of the 2017 ruling.
His findings were welcomed on Tuesday by a host of industry voices, including the German Foundation for Patient Protection, who argue that the state should have no say over who should be granted access to lethal medication.
Read more: When Life Becomes Intolerable
"It can't be that civil servants decide on the allocation of lethal medication to people who want to commit suicide," said Eugen Brysch, the foundation's chairman.
These complaints date back to a decision by the Federal Court in Leipzig last March, in which it ruled that "in extreme cases" terminally ill patients should have a right to receive a lethal pill known as sodium pentobarbital.
The BfArM, a federal institute for medical research, was not only ordered to supply the pill, but also to decide on its own which cases effectively warranted suicide and which didn't.
The decision caused outcry among experts, who warned that a state body was not in the position to grant or deny a person's death wish.
According to the BfArM report on assisted suicide published on Monday, di Fabio also believes that the Leipzig court's verdict forces the institute to overstep its constitutional obligations. In that case, the judges focused too heavily on the individual's right to take his or her own life, rather than what right the state has to become involved in what is an extremely personal decision.
Di Fabio has insisted that the case go before the Supreme Court, a move welcomed by Federal Health Minister Hermann Gröhe of the Christian Democrats. Speaking to German daily Frankfurter Allgemeine Zeitung (FAZ), Gröhe said that the state "must never become an accomplice in suicide," adding that the country's top court should clarify the laws concerning assisted suicide.
Read more: Opinion: A good death
According to Germany's FAZ newspaper, the BfArM has received 83 such requests, none of which have yet been granted.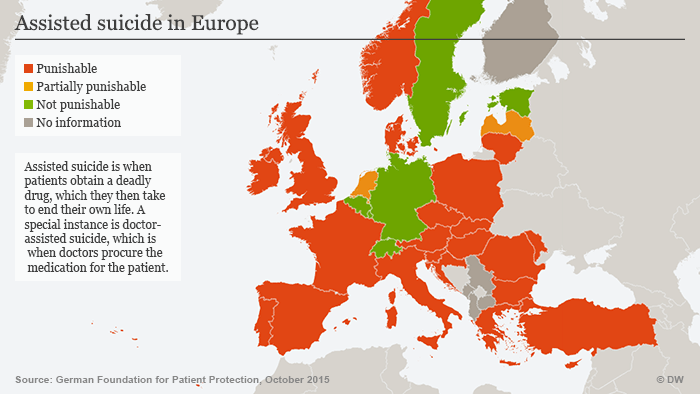 Suicide as a service illegal
The Leipzig court's ruling may also infringe on a 2015 law banning any organization or individual from providing a "commercial" euthanasia service. Despite its abstract wording, the law effectively prohibits assisted suicide as a service. Any person found to be profiting from selling lethal medication to people wishing to commit suicide can face up to three years in prison.
The BfArM has warned that if it were to be obligated to routinely distribute lethal medication, it would err close to facilitating euthanasia on such a systematic level.
Attempted suicide and aiding and abetting suicide, however, remain legal under German law.