The Russian Tupolev plane had been taking its passengers, including 52 children, to a seaside holiday in Spain when it collided with a DHL cargo plane over Überlingen, near Lake Constance, on the border between Germany and Switzerland.
The court in Constance ruled that because the German state had asked Swiss air traffic control authority Skyguide to guide traffic in that part of southern Germany, it breached its constitution and was responsible for the disaster.
"The sovereign task of securing air space has never been effectively transferred to Switzerland," the court said in its ruling.
German officials at the Transport Ministry said they would wait for the court's written judgment before commenting on the ruling
Series of errors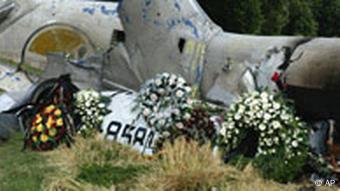 The court said pilots were not at fault for the crash
An inquiry concluded last year that a catastrophic chain of human error, system failures and technical problems had led to the collision.
"This would have led eventually to the overload of the only air traffic controller working at the time and ultimately would have caused the collision between the planes," the court said.
Had a warning program and telephone, which were undergoing repairs at the time of the accident, been in working order, the crash could have been avoided, according to Wilhelm Müller, who was the case's chief judge.
A single Skyguide controller-manned station instructed the pilot of the Russian plane to descend to avoid a collision despite instruments aboard the plane saying he should climb. The DHL plane's instruments also told it to climb to the same level, which led to its tail fin cutting through the Russian jet killing all 69 aboard as well the two German DHL pilots.
In 2004, a Russian man who lost his wife and two children in the disaster stabbed to death a Swiss air traffic controller who had been under investigation in connection with the collision.
Cases still pending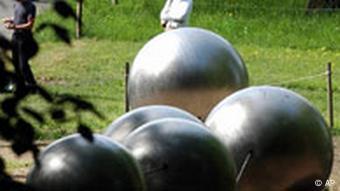 A memorial was built for the crash victims
The court said it will rule at a later date on the amount of the compensation to be paid to Bashkirian airlines. The company has sought 2.6 million euros ($3.3 million) in damages from Germany.
Two additional civil cases are also waiting for the court's attention. DHL and 19 insurance companies are suing Germany for 36 million euros ($45 million) in damages. In the second suit, Skyguide's Swiss insurance company, Winterthur, is suing Bashkirian for 2.5 million euros ($3.2 million)
Decisions on compensation for pain and suffering by the victims' families are also pending in Constance and in Switzerland. Prosecutors are also considering charges of manslaughter against eight Skyguide employees.