The decision was reached in Berlin Friday at a meeting between Germany's Social Democrat Transport Minister Wolfgang Tiefensee and his Danish counterpart Flemming Hansen.
"This bridge joining nations ought not just to significantly reduce driving time between Hamburg and Copenhagen, it's also very important for transport routes in all of Europe," Tiefensee said, adding the bridge should be completed by 2018. Both countries' parliaments must still approve the plan, which requires a treaty, the German transport ministry said.
19 kilometers (11.81 miles) long, the bridge will run from Puttgarden on the Baltic island of Fehmarn and Rødby on the Danish island of Lolland, sparing motorists traveling between the two countries a ferry journey across the Fehmarn Strait and easing the trip from Hamburg to Copenhagen.
It is expected that motorists will be charged a toll fee to use the bridge with the aim of recovering the costs of the project within 25 years.
The bridge is expected to cost some 5.5 billion euros ($7.43 billion). In 2000, a similar link was opened between Copenhagen and
the southern Swedish city of Malmo.
Negotiations over financing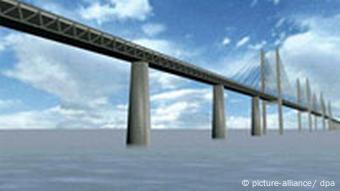 What the bridge will look like
The project has been in the pipeline for some 15 years but has been delayed largely by protracted negotiations over financing.
Although supporters of the project argue that the bridge will be an economic boost to both countries, Denmark announced it would be willing to foot the entire bill after Germany consistently expressed reservations.
Denmark will now be contributing 4.8 billion euros towards the project and would carry out most of the construction, Tiefensee said at Friday's press conference. Germany's part will consist of linking the bridge to its existing transport infrastructure.
Ferry operators in the German states of Schleswig-Holstein and Mecklenburg feared business would suffer, while green groups voiced concerns about the environmental impact.
The German Association for Environmental Protection (Nabu) said the project would be unable to proceed without the support of other authorities such as the Office for Environmental Protection.
"We will be looking into every opportunity to stall this project with legal means," said Nabu CEO Leif Miller.