Sweden in particular has complained that the pipeline could disrupt the Baltic Sea's sensitive flora and fauna. Other Baltic Sea states, including Finland, Denmark and Estonia, also worry that the construction work could stir up toxic material on the seabed and even disturb unexploded chemical weapons left over from World War Two.
Nord Stream, the Russian-German consortium building the pipeline, seeks to alleviate these concerns and "has decided to launch additional studies to investigate areas where the route of the pipeline through the Baltic Sea can be further optimized in a reasonable way to minimize environmental impacts," according to a statement.
Rerouting the pipeline
Nord Stream first proposed building the pipeline across the Gulf of Finland and down the middle of the Baltic Sea, passing just below the Swedish island of Gotland. But following lengthy consultations with affected Baltic Sea states, the consortium is now looking into three alternate routes.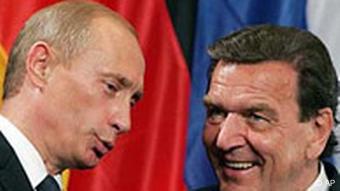 Former German Chancellor Gerhard Schröder, right, is on Nord Stream's board
"Further optimization" of the route might be necessary in the Gulf of Finland, Nord Stream said, where the pipeline could be built along a more southern route near of Estonia. Other options include laying the pipeline 10 kilometers further south of Gotland, bypassing Swedish wildlife reserves, or running it along a route north of the Danish island of Bornholm.
Nord Stream, which appointed former German Chancellor Gerhard Schröder to its executive board shortly after he left office, says it is "determined to make sure that the new pipeline meets high environmental standards."
The controversial pipeline has been a hard sell for Nord Stream, and the success of this five-billion-euro project hinges on the approval of Finland, Sweden and Denmark.
A hard sell with high stakes
In accordance with the European Union rules, Nord Stream is required to furnish an environmental impact assessment (EIA) to those countries whose territorial waters would be affected.
Nord Stream is expected to submit an extensive EIA in the early autumn of 2007, and hopes to begin construction of the pipeline by 2008, following final approval of the impact assessment.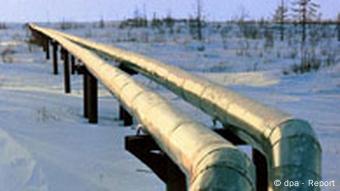 27.5 billion cubic meters of Russian gas could be flowing into Gemany in 2010
The consortium has also submitted reports to Poland, Latvia, Lithuania and Estonia. Polish officials have expressed fears that the project could threaten Poland's energy security, as the new pipeline would allow Russia to sell natural gas to Western Europe without the need for Polish transit lines.
In April last year, Polish Defense Minister Radoslaw Sikorski even went so far as to compare the project to the Hitler-Stalin pact of 1939, which divided Poland among Russia and Germany. But Poland has no veto power over the project.
Sweden has also cited security concerns: officials there have expressed fears that an offshore platform near the Swedish coast could be used as a venue for Russian intelligence gathering.
Baltic Sea states are also uneasy about Russia's plans to increase its military presence in the Baltic Sea, ostensibly to protect the project and assist in the removal of unexploded ordnance from the seabed.
Satisfying European energy needs
Nord Stream is a Russian-German joint venture created solely for the construction of the Baltic Sea pipeline. Russian energy giant Gazprom own a majority stake in the consortium, and Germany's E.ON Ruhrgas and Wintershall hold 24.5 percent shares each.
If completed by 2010 as planned, the 1,200-kilometer pipeline would pump 27.5 billion cubic meters of natural gas per year from Vyborg, Russia to Greifswald in northern Germany. In a second phase, a parallel pipeline would double that transport capacity, and Nord Stream estimates that will meet about 25 percent of the additional gas needs of the European Union.