Friends of the Earth's German affiliate, BUND, on Friday accused Chancellor Angela Merkel's government of foot-dragging despite Germany's obligation under the 2015 Paris climate treaty to slash carbon emissions.
Shocked by the Fukushima nuclear reactor meltdown in 2011, Germany legislated to close its nuclear power plants by 2022.
Power utilities initially clung to coal- and nuclear-power generation, arguing that dependence on wind and solar power alone would expose consumers nationwide to delivery gaps - for example during calm, cloudy weather. The Federal Association for Energy and Water called BUND's plan "irreproducible."
Presenting BUND's "switch-off" plan for the next five years in Berlin, Chairman Hubert Weiger said its analysis showed that with planning, the "gap" argument was specious and "much more is possible if the political will to do so prevails."
Weiger: Germany still off target on reducing climate-harmful emissions
Prompt closures won't mean blackouts
Prompter closures of Germany's seven operative nuclear plants and its oldest, pre-1990 coal-fired plants — if done in an orderly manner — would not lead to delivery interruptions, Weiger said.
"In the first quarter of 2018, Germany exported the equivalent on average of five large plants," he said, adding that it was "astounding" that Germany's new coalition government stayed inactive as climate change escalated.
"To meet [its] 2020 climate goal, the government must launch a fast-track program. Further waiting is irresponsible," insisted Weiger.
Energy companies, however, said that the excess power exported by Germany would decline over the next five years and that there was a possibility the country would not be able to import enough energy to meet its needs as other European countries reduce their power generation.
Decentralization, energy usage efficiency
In addition to extra wind and solar energy, a mix of more decentralized small-scale power-heat cogeneration units, known in Germany as KWK plants, greater savings in energy usage, increased electricity grid optimization and better trimming of loads on the grid are all needed in Germany, BUND said in its study.
Immediate shutdowns would avert the production of 300 tons of highly radioactive waste and start the process of carbon emission reductions needed to realize coal-fired shutdowns foreseen by 2030 under the Paris treaty.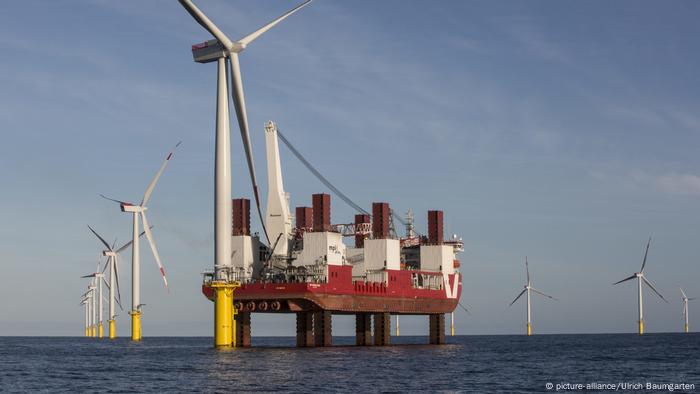 Capturing wind energy offshore, but delivering it via electricity grids is also a challenge
Germany's power-generation capacity from black and brown coal of 42.7 gigawatts (GW) this year would fall to 20 GW in 2020 and 14 GW in 2023 — heading toward a complete coal exit by 2030.
Reductions on this scale were needed urgently because by 2020 Germany would over-shoot its climate-rescue target - measured in carbon dioxide emissions - by 155 million tons, or about 10 percent, according to BUND calculations.
Germany's Friends of the Earth affiliate said its suggestions would also significantly widen the "political leeway" for more climate protection and expose as fallacious claims by providers that rapid shutdowns would leave Germany insecure.
ipj/sms (AFP, dpa)