The poorly prepared launch of a new fuel composed partly of organic petroleum has rocked the German petroleum industry, prompting the economics ministry to convene an emergency summit to resolve the situation.
Economics Minister Rainer Brüderle said on Thursday that "clarity was desperately needed between the industry and the consumer."
The petroleum industry has temporarily halted the delivery of new Super E10 fuel to gas stations not yet selling it, because, quite simply, almost no German drivers are willing to use it.
The head of the Association of the German Petroleum Industry (MWV), Klaus Picard, justified the delivery halt by saying that the system couldn't deal with the drivers' boycott.
Worried industry
An MWV survey revealed that over 70 percent of German drivers said they would never fill up with Super E10, due to fears that its makeup - 90 percent normal Super fuel, 10 percent organic fuel - would irreparably damage their cars' engines.
Drivers said they would rather use Super and Super Plus - the highest grade fuel available to German drivers - despite their higher prices.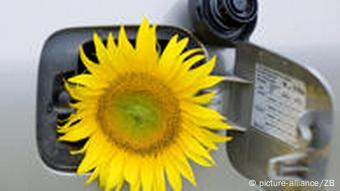 German drivers are reluctant to put flowers in their tanks
This has led to a dramatic rise in demand for the Super Plus and Super fuels. Many of the country's 15,000 gas stations have already reported shortfalls - in some cases even a complete drying up - of the Super fuel.
On Wednesday, the MWV issued an appeal to German drivers to use the organic Super E10, assuring them that it was only harmful to a small group of cars.
According to the Association's latest statement, some 93 percent of cars allowed to drive on German roads are able to use Super E10.
Author: Gabriel Borrud (Reuters, dpa)
Editor: Susan Houlton