German foreign ministry spokesman Martin Schäfer said Russian foreign ministry spokeswoman Maria Zakharova had spread rumors "that are objectively false," saying that Chancellor Angela Merkel had attempted to convince Russia to support an alternative candidate from Bulgaria.
Zakharova implied that Merkel had been trying to drum up support for the European Commission Vice President Kristalina Georgieva, a Bulgarian national, at the G20 summit earlier in September to succeed UN Secretary General Ban Ki-moon at the beginning of next year. Moscow suggested that the reason for the alleged shift in support away from the current Bulgarian candidate, UNESCO Director General Irina Bokova, lay in her being too overtly pro-Russian in her views.
German foreign ministry spokesman Martin Schäfer also stressed that Berlin had not endorsed any candidate for the top UN position so far.
A tight contest
Bulgarian Deputy Prime Minister Rumiana Bachvarova said that the Irina Bokova candidacy was "not sufficiently convincing," adding that there would be "news in coming days" on the subject. There were no comments, however, on whether Kristalina Georgieva would be chosen as an alternative candidate.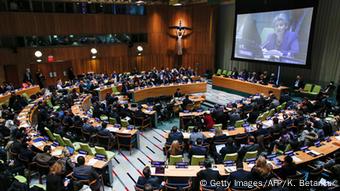 The next UN secretary general might be elected as early as in October 2016
Ten candidates are currently in the running to succeed Ban. The name of the next UN Secretary General could be announced in October at the earliest. Former Portuguese Prime Minister Antonio Guterres, who also served as UN High Commissioner for Refugees (UNHCR), is presently leading the race, with Bokova only in fifth position.
With Russia being one of the five permanent members of the Security Council with veto-wielding powers, the dynamics of the race could change at the next round of voting on October 4, if it - or any of the other four permanent members - were to choose to block any of the candidates.
ss/rc (dpa, AFP)