"We have to realize that terrorism has arrived in Europe," Austria's Interior Minister Günther Platter said on Tuesday. He was speaking at an annual meeting with his German and Swiss counterparts and Liechtenstein's Foreign Minister Rita Kieber-Beck in Weimar.
The ministers agreed to form a joint task force to step up the fight against terrorism.
"Switzerland is not a haven for terrorist activity," said Swiss Interior Minister Christoph Blocher. He added that the Swiss banking sector, famous for its promise of confidentiality, is not trying to profit from criminal money.
Support for online police investigations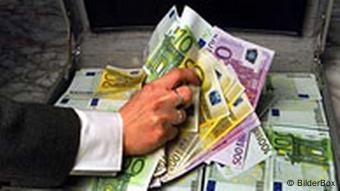 Switzerland has no room for criminal money, said the country's interior minister
Platter expressed support at the meeting for German Interior Minister Wolfgang Schäuble's plan to search terror suspects' computers. The controversial plan has come under fire at home, but did win the support of German Chancellor Angela Merkel from the Christian Democratic Union (CDU).
"There can be no place where terrorists are safe," Merkel said on Tuesday from a CDU party conference. "For that reason, we are in favor of online searches."
Blocher also emphasized the importance of combating Internet crime.
Visa-free travel for European Cup
While the ministers agreed to tighten up on security, they also discussed loosening visa restrictions. Switzerland and Liechtenstein expressed interest in joining the so-called Schengen Agreement, which allows for visa-free travel between member countries.
Blocher said that a Schengen visa would be valid in Switzerland and Austria during the 2008 European Cup in soccer, which the countries are co-hosting.
Austria emphasized that they would follow Germany's example from the 2006 soccer World Cup, which implemented international teams of law enforcement officers.