Children and juveniles who have been forced to flee their homes with family or on their own do not have it easy. They have been torn from their familiar surroundings and know poverty, war and fear all too well. Many have not attended school for months or even years, and they have no idea what a structured routine feels like. Since 2015, German schools have taken in some 130,000 such students, providing them with a variety of educational opportunities; classes that are designed to prepare them for regular schooling, intensive language courses and one-on-one mentoring.
Nevertheless, teachers and fellow students are having a hard time integrating refugees, according to a new study published by the Expert Council of German Foundations on Integration and Migration. "We cannot be certain that students in our school system won't get lost along the way," said Ulf Matysiak, director of the "Teach First" program.
Read more: How do Syrian refugees view the German school system?
Teach First supports schools in deprived neighborhoods by deploying college graduates from various disciplines for a two-year period. These so-called "fellows" are tasked with mentoring refugee students in particular, with the aim of preparing them to enter the German school system. Fellows from 56 schools in Baden-Württemberg, Berlin, Hamburg, Hesse and North Rhine-Westphalia were anonymously polled about their experiences.
Too little time and too little competence
Based on the fellows' observations, the study found that the distribution of refugees represented a major impediment to academic success. Most refugees, the study found, landed in schools located in deprived areas.
"Teachers already tend to be overburdened dealing with local students in these so-called segregated schools," said the report's author, Simon Morris-Lange. The deputy director of the Expert Council of German Foundations for Integration and Migrationit added that is not impossible for new students to get an education at such schools but that teachers there often do not have the time and energy to deal with the individual needs of refugee students.
That problem often begins when refugees have completed their two-year preparation and enter the actual school system. "Fellows from Teach First observe that teachers in the preparatory courses tend to work closely and exchange information with one another," said Morris-Lange. "Moreover, their approach tends to be more adaptive than in the everyday school system. That means they structure classes to fit the special needs of their students."
Read more:German schools face the challenge of integration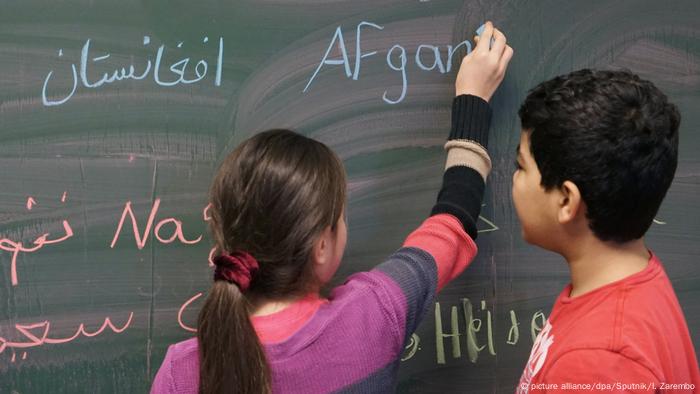 Many students are traumatized and require a fixed contact person
Many students, however, require special assistance even after their two-year preparation, with things like advanced language courses. "Such offers are rather scant in the normal school system," said Teach First Director Matysiak.
One of the biggest problems is a lack of time. "Time for one-on-one talks, parent-teacher conferences and discussing longterm perspectives — the things that are most important — just isn't there," according to Matysiak. He adds that most teachers simply aren't qualified to deal with students who come from different cultures, grew up in a different religious context and who often struggle with trauma as a result of their experiences. "Every teacher, even math teachers, should have at least basic knowledge of teaching German as a second language," said Morris-Lange. "That is no longer something that only specialized teachers have to contend with."
'Schools need team spirit'
The recommendations put forth by Morris-Lange are directed specifically at the educational authorities that create the structural framework for schools in their municipalities and states. He emphasizes that the most important aspect is the distribution of refugees.
"Right now, the determining factor for school placement tends to be proximity to a person's place of residence," he said. "And most refugees do not live in middle-class neighborhoods." He adds that the current distribution system poses the threat of ghettoizing already deprived schools. "Data about school districts could allow administrators to distribute students more equitably in order to avoid further segregation."
Read more: German local authorities need help getting jobs for refugees
The report concludes that teachers themselves will need to be better trained to deal with diversity in their schools. That will require more money and more teaching personnel for schools in disadvantaged neighborhoods.
Ultimately, the schools themselves will have to find solutions. Without them, even the best-laid plans will be doomed to failure.
"It starts with understanding that diversity needs to be the point of departure for the organization of the school day," said Morris-Lange, emphasizing that change is impossible if principals and teachers do not act as a team. "Nonetheless, it will take a long time to prepare our schools for the challenges of adequately serving the immigrant society that we have become."
DW's editors send out a selection of the day's hard news and quality feature journalism. You can sign up to receive it directly here.