German President Joachim Gauck has said that Africa and Europe must work together to tackle terrorism and the cause of refugee flows.

Addressing the West African regional bloc ECOWAS in Abuja, Nigeria, he said fleeing and displacement have become a challenge to both continents.

Germany, he said, wanted to remain "an open country" for refugees "but must also recognize that our capacity is limited."

Around 1.1 million asylum-seekers arrived in Germany in 2015, seeking safety from war and oppression in countries such as Syria.

Gauck also said that developing, emerging and industrialized countries could only solve together the many challenges which do not respect national frontiers.

He was referring to climate change, the struggle for peace and the preservation of biodiversity.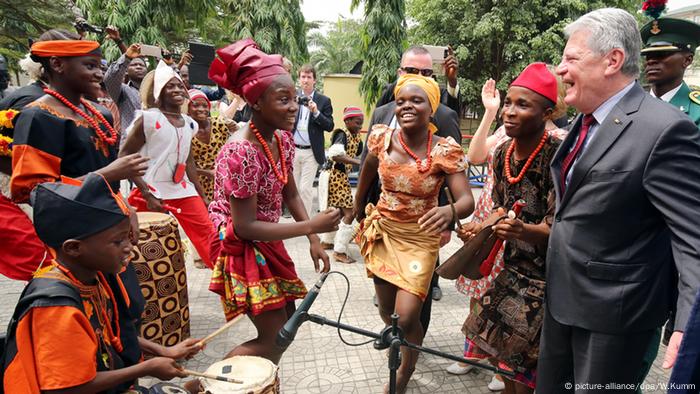 President Gauck visiting Freedom Park in Lagos. He called on Africans and Europeans to solve their problems jointly
Business talks
On Tuesday the German president attended a meeting of German and Nigerian entrepreneurs in Lagos. He urged Nigeria to dismantle trade barriers and to increase legal protection and transparency for investors in the country, where about 100 German companies are present. "The interest of the German economy is there," he said.

Gauck also met Nobel-winning novelist Wole Soyinka and held talks with other writers and publishers.

They included publisher Richard Ali, who told DW the German president "was very curious about the literature in Nigeria and about the political situation in Nigeria concerning censorship."

Nigerian writer Safiya Ismaila Yero was clearly delighted by the encounter with the German head of state. "A foreign president coming to Nigeria to meet with us writers, when most, or even all, of us have not even met the Nigerian president," she said.
On Thursday, Gauck will meet the Nigerian president, Muhammadu Buhari.
A trip to northern Nigeria was cancelled for security reasons. The north has borne the brunt of attacks by the Islamist militant group Boko Haram whose attacks have killed thousands and displaced around 2 million. The president was, however, able to visit a refugee camp in the capital Abuja.
On Friday Gauck is scheduled to leave Nigeria for Mali where he is expected to visit German troops deployed in the country.