Winfried Langner was returning home in the German state of Lower Saxony on Tuesday after canceling a road trip to Scotland after being detained by police for hours.
"Trekker-Willi," or "Deutz-Willi" after the brand of his vehicle, had paid €2,000 ($2,250) for a ferry trip from the Netherlands to the English port of Newcastle and was continuing his journey to Scotland. After being repeatedly pulled over by police and checked, "he felt genuinely persecuted," his daughter Sabine Langner-Uslu told the German dpa news agency.
Langner himself found even stronger words talking to the local Täglicher Anzeiger Holzminden newspaper: "It was pure chicanery, what they put me through. In the end I told them to kiss my ass." The local paper first ran the story, with the headline "Trekker-Willi does his own Brexit."
Langner's slow-moving vintage tractor "Robert" and its trailer "Snail" was perhaps an unusual sight on English roads, however the octogenarian previously completed successful tours to the Spanish island of Mallorca, the North Cape — considered the northernmost point of Europe — and St. Petersburg in Russia.
Read more: UK's Prince Philip gives up driving license after accident
Sunday driver
He had wanted to drive along the well-traveled and picturesque North Coast 500 (NC 500) route around the Scottish coastline, but police accused him of being too old to drive a tractor and trailer, and of not having a valid driving license.
There is no upper age limit for driving in the UK, although drivers are sent a form to renew their license when they reach the age of 70. Then, drivers have to reapply every three years for a permit. European licenses are valid on British roads, at least for now — depending on Brexit's outcome.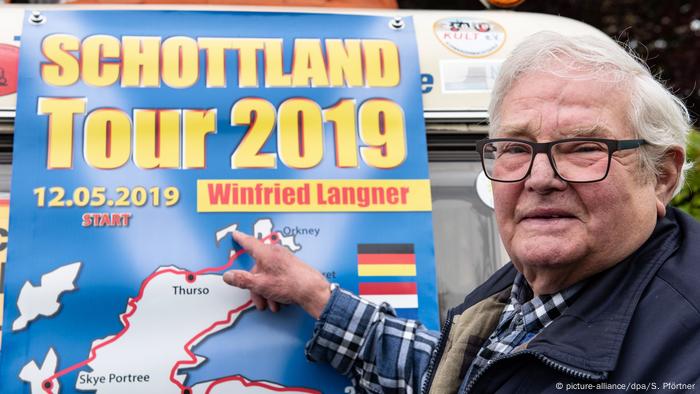 Shattered dreams: 'Trekker-Willi' had hoped to reach the northernmost point of Scotland
"My father found the allegations impossible," said Langner-Uslu. "He did not understand what the police wanted from him." It was also difficult that he hardly spoke any English.
She said that her father was disappointed that after so many successful trips, he wasn't able to realize his dream of driving to Scotland.
Each evening at 1830 UTC, DW's editors send out a selection of the day's hard news and quality feature journalism. You can sign up to receive it directly here.