Ralf Jäger, the interior minister of Germany's western state of North Rhine-Westphalia (NRW), on Thursday defended the actions of security authorities in the lead-up to the December 19 attack.
Speaking before a special meeting of the state's parliamentary interior committee, Jäger explained that "thorough, close observation" had failed to provide concrete evidence of an imminent threat.
Authorities say Anis Amri, a 24-year-old Tunisian national, killed 12 people and injured dozens more in the attack in the German capital last month. He was killed four days later in a shootout with Italian police in Milan.
According to a report presented to the NRW committee, Amri was known to police under 14 different aliases.
"The attack was carried out by a man whom security officials across Germany were very well aware of," Jäger told regional lawmakers. He added, however, that "in a constitutional state, we can't simply lock up threats as a precautionary measure."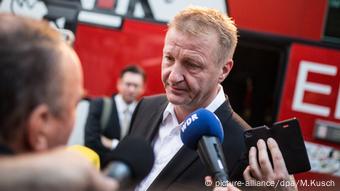 NRW interior minister Ralf Jäger faces hard questions over the handling of the Amri case
No hard evidence of planned attack
Amri had long been on Germany's list of potentially violent Islamist extremists. He arrived in the country in 2015 and had been based mainly in NRW. Local immigration authorities there had rejected his application for asylum and tried in vain to deport him.
During Thursday's committee meeting, NRW criminal police chief Dieter Schürmann told lawmakers that both state and federal authorities had investigated concerns that the 24-year-old Tunisian could mount a terrorist attack. In the end, he said, their findings wouldn't stand up in court and they had "exhausted all legal powers to the limit to ward off potential dangers."
The NRW opposition rejected that explanation, saying it was incomprehensible that someone considered a threat could move freely around Germany and carry out an attack.
Ahead of the special meeting, Gregor Golland of the state-level opposition Christian Democrats (CDU) blasted the regional government for what he described as its "blatant failure" and "misjudgment" in the Amri case.
Opportunity for change
Jäger told lawmakers there was a need for legal reforms to make it easier for police to detain individuals who posed a potential danger to the public and who had no prospect of remaining in Germany. One example, he said, could be negotiating more effective readmission agreements with countries of origin like Tunisia, Morocco and Algeria.
"We must and we will draw the necessary lessons from this terrible event," he said.
Meanwhile, investigators are looking into one of Amri's associates, a 26-year-old man who was detained Tuesday on suspicion of fraud. The suspected accomplice was seen having "an intense conversation" with Amri over dinner at a Berlin restaurant the night before the attack, according to Frauke Köhler, a spokeswoman for the federal German prosecutors' office.
Police are now investigating his role in the attack.
nm/se (AFP, dpa, AP)