Lohfink, who became a popular media personality after appearing on the show "Germany's Next Top Model," said she was forced to have sex with two men, who filmed the act and later posted it online.
A Berlin court on Monday dismissed her rape claims, however, deciding that the sex was consensual and that her objections, heard on the video, were to it being filmed. The model will be forced to pay 20,000 euros ($22,600).
In her final statement to the court, the 29-year-old model repeated her claims that she didn't give her consent to the two men, a soccer player identified as Pardis F. and a former party promoter named Sebastian Pinto.
Lawyers accused Lohfink of defaming the men. "Ms. Lohfink is not the victim of sexual assault. She lied and deliberately misled investigators," said state prosecutor Corinna Goegge.
Verdict a 'scandal,' says defense attorney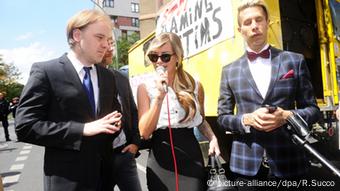 Gina-Lisa Lohfink
A medical expert also said there was no evidence that the woman had been drugged as she originally claimed. Lohfink's defense attorney called the verdict "a scandal."
The judge did rule, however, that the video was distributed without her consent - something for which both men will be penalized.
Earlier, both men had been found guilty of rape but were cleared. Following that, Lohfink was ordered to pay 24,000 euros for making false claims, but she refused to pay. For that reason, the case went to court a second time.
Lohfink's case has been taken up by many women's rights activists in Germany, while her critics claim she was using the video as a publicity stunt.
blc/jil (AP, dpa)