Nahles said on Sunday that refugees who did not integrate should have their benefit payments reduced. The minister, who is also responsible for social affairs, said payments should also be dependent on migrants learning the German language.
"Whoever comes here to seek refuge and begin a new life must adhere to our rules and values," the Social Democrat wrote in a guest piece for the "Frankfurter Allgemeine Zeitung" newspaper.
"We will cut the benefits of those who send the signal that they do not want to integrate," Nahles said. "From my point of view that should also be connected to participation in language courses and, in addition, adhering to the basic rules of our coexistence."
In the longer term, Nahles said, refugees would be expected to support themselves. Regardless of ethnic origin, she said, everybody seeking a new life in Germany should use "all their skills and manpower to earn their own living."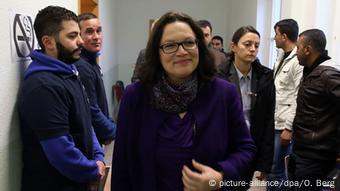 Nahles, who is also responsible for social affairs, said those seeking a new life in Germany should support themselves
For Nahles, this should also be the case for foreign EU nationals living in Germany. "Local authorities cannot care for destitute EU nationals from abroad indefinitely," she wrote. "That was never the idea of EU freedom of movement, which is among the greatest achievements of European integration."
Strain within coalition
Germany saw nearly 1.1 million asylum-seekers enter the country last year, with growing concern about the country's ability to cope. Chancellor Angela Merkel's government is to adjust its open-door policy to those seeking refuge in Germany.
Horst Seehofer, leader of the CSU - sister party of Merkel's Christian Democrats and part of the ruling coalition - has threatened to take the government to court if his demand to stem the flow of asylum seekers is not met.
Rising support for controversial AfD
Berlin's inability to agree on measures in the refugee crisis has seen a rise in support for Germany's right-wing Alternative for Germany (AfD) party. A survey by the polling company INSA showed that 13 percent of Germans supported the party.
Germany's vice chancellor on Sunday called for the party to be put under observation by Germany's domestic intelligence service, after its leader Frauke Petry suggested that police should be allowed to shoot refugees trying to enter the country illegally.
Petry told the daily newspaper Mannheimer Morgen on Saturday that a border police officer "must stop illegal border crossings, and also make use of his firearm if necessary."
"No policeman wants to fire on a refugee and I don't want that either," said Petry. "But the last resort includes the use of armed force."
The AfD leader's comments were immediately met with a backlash of outrage from both police and politicians. The controversy deepened Sunday as deputy AfD chairwoman Beatrix von Storch affirmed on Facebook that border guards should shoot at women, but not at children, as she had originally suggested.
In a statement released on Saturday, the GdP, a German police union, said "no policeman would be prepared to fire at" migrants.
rc/gsw (AFP, dpa, Reuters)