German Foreign Minister Sigmar Gabriel on Wednesday said NATO's defense spending target for member states of 2 percent of gross domestic product (GDP) was not a rigid rule agreed upon by every nation in the alliance.
"I am concerned that politicians make public promises that they can't fulfill later on," Gabriel said after meeting with Estonia's foreign minister in Tallinn. "There is no apodictic 2 percent goal, but rather … we should be moving in that direction."
In 2014, NATO nations in Wales agreed to stop cuts and pursue a target of spending 2 percent of GDP on defense by 2024.
However, US President Donald Trump has pressured allies to reach the goal sooner, vowing only a "moderate" commitment if NATO nations fail to boost defense spending.
'Obligations have to be fulfilled'
Gabriel made waves at the Munich Security Conference in February when he warned against increasing defense spending in lieu of other services.
"Germany spends 30 to 40 billion euros on supporting refugees because of military interventions years ago that went wrong," said Gabriel last month. "This should be considered a contribution to stabilization."
However, German Defense Minister Ursula von der Leyen criticized Gabriel's remarks at the conference, saying he failed to stick to Berlin's commitment.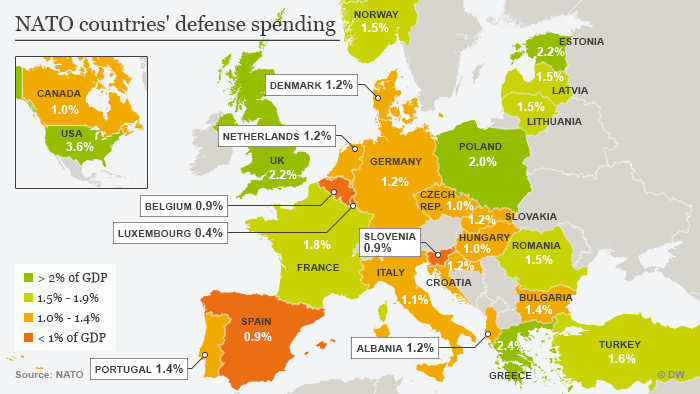 German Chancellor Angela Merkel has also backed the NATO target, telling supporters in Stralsund that "obligations have to be fulfilled, and others in the world will demand that of us."
The split between Gabriel of the Social Democrats (SPD) and Merkel's Christian Democrats (CDU) on defense spending has widened ahead of key parliamentary elections slated for September. The SPD is seeking to dethrone Merkel, who has served as chancellor for three consecutive terms.
Spending more
Meanwhile, the Trump administration has called for a major increase to defense spending, signaling a $54 billion increase for 2018's budget. White House officials said cuts would be made to domestic and foreign programs to pay for the increase.
The United States is the world's largest spender on defense, with $523.9 billion allocated to the defense department.
Only five NATO nations have hit the 2 percent target, including Estonia, Greece, UK, Poland and US.
ls/sms (dpa, Reuters)