Since the German Football Association (DFB) museum was opened on October 25th, 2015 has been ranked among the most visited in the region. It shows the comprehensive history of German football - away from individual clubs. 90 percent of the museum visitors have given the multimedia and interactive permanent exhibition big thumbs up.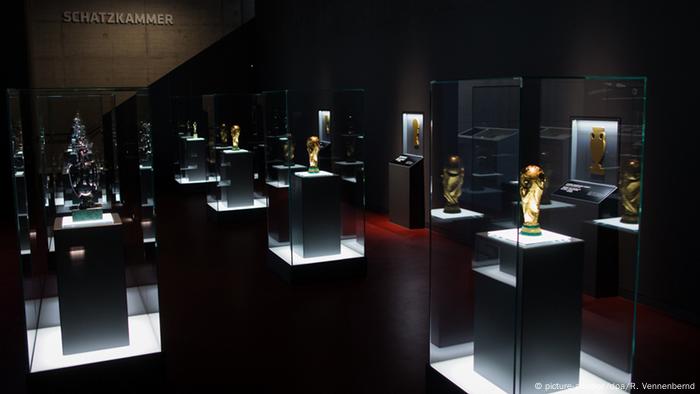 View of the "Treasure Room" with all four World Cup trophies
After a look back at the origin of the sport in England and Germany the museum focuses on the great moments of the German National Team. It also shows the history of the DFB-Football Association, German women's football and football in the former communist East Germany - until it enters modern day football, marked by the 2014 World Cup win. Among the 2,000 exhibits is the original ball form the World Cup final in 1954.
"The survey shows that our innovative exhibition concept moves and excites our visitors," DFB President Reinhard Grindel said, adding "we are pleased with the positive resonance and hope that, following this first successful year, many more people will make their way to Dortmund to experience the history and the stories associated with German football."
kir/ks/sbc (dpa, sid, fussballmuseum.de)