He was perhaps Augsburg's most famous son, especially in the world of soccer. Helmut Haller competed in three World Cups with Germany, winning a runners-up medal in 1966. Haller was capped 33 times, scoring 13 goals in the West German jersey.
"The news of Helmut Haller's death has made me very sad," Franz Beckenbauer wrote on his Twitter account on Thursday evening. "He was definitely one of the best teammates I ever had!"
Haller and Beckenbauer experienced disappointment at Wembley in 1966, when hosts England beat Germany 4-2 after extra time, aided by a goal from Geoff Hurst that was effectively the genesis of the goal-line technology argument. The ball finished at Haller's feet in that game, and he famously kept it – only to give it back during the Euro 96 tournament three decades later, the next major tournament to take place in England. Hurst had scored a hat trick in the game, so at least by tradition, the ball was his to take home.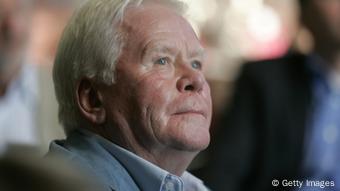 Despite his happy decade in Italy, Haller gravitated to his hometown of Augsburg
Haller, a tall striker for his era, began his career in 1957 with Augsburg, netting 24 goals over five years and 85 games with the club.
An early, effective export
He subsequently moved away to what became his second home, Italy - spending over a decade plying his trade in Serie A. Haller knocked in 48 goals over six years with FC Bologna, winning the the championship in 1964. He then moved on to Juventus where he won back-to-back league championships in 1972 and 73.
He played far more league games in Italy than Germany, though he returned to his hometown of Augsburg in 1973, with the 1978/79 season his last in professional football. He ended his three stints at Augsburg with 47 goals in total, one less than he notched up with Bologna in his prime.
Aged 39 by the end of his final Augsburg season, Haller had not been in the national setup for almost a decade; he competed in his 33rd and final Germany match in 1970.
Haller remained in Augsburg after his playing career, representing the side in a host of back-room roles.
The 73-year-old had been battling poor health for years. He survived a severe heart attack in 2006 and spent his latter years suffering from dementia and Parkinson's disease.