Germany's top football clubs voted Wednesday in favor of a new draft paper entitled "a safe stadium experience," a string of new measures supposed to help reduce and combat fan violence.
Every side from the top two German divisions, those administered by the German Football League (DFL), was represented at the DFL assembly in Frankfurt.
Several fan groups had criticized the paper, with matches in many German stadiums played out in silence for the first 12 minutes and 12 seconds (a reference to the vote's December 12, 2012 date) as a form of protest in recent weeks. On Tuesday, second division side St Pauli, famed for a vibrant fan culture, lodged a request to delay the vote and re-draft the paper with input from supporters' organizations.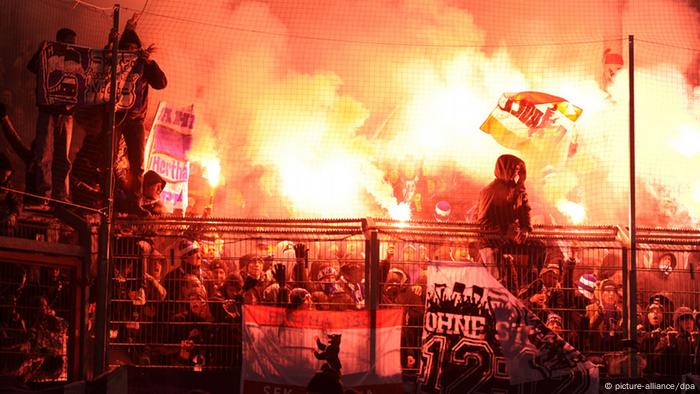 Flares and other flammable materials - already banned but still seen in stadiums - are on the agenda
Political pressure, skeptical supporters
Hundreds of fans gathered in protest Wednesday outside the Sheraton Congress Hotel in Frankfurt, where the conference took place.
Pressure to make a move mounted in the papers and parliament alike after a particularly unruly end to the previous German season, coupled with some instances early in the current campaign.
The most recent, major example - a second round German Cup game between Hannover and Dynamo Dresden - resulted on Monday in a fine for Hannover and exclusion from the lucrative competition for Dresden. Observers pointed to the comparatively harsh penalties, when compared to similar past instances, as an attempt from the German Football Association (DFB) to show that its patience was exhausted.
The new proposals were drafted after a government report into fan violence concluded that the problem was worsening at German football matches. The cost of policing football games, especially in states like North Rhine-Westphalia that boast a slew of top clubs, has also come under scrutiny as state governments seek to cut expenditures. Forcing clubs to foot the bill for police operations and any damage the German forces incur is one of the 16 points in the paper.
Stricter searches on entry, more video surveillance in football grounds and tougher punishments for offenders - including banning troublesome fans from the grounds - are other proposals in the package. A greater clampdown on already-banned use of flares and pyrotechnics in the stands also occupies a prominent position.
These fireworks, many of which famously ended up on the pitch and disrupted play in the May 15 relegation playoff between Düsseldorf and Hertha Berlin, are among the most visible element of stadium unrest for those watching at home. That same game also culminated with a pre-emptive pitch invasion from Düsseldorf fans, streaming onto the field before the game was up and causing a 20-minute hold-up.
Some fan groups have criticized the process as too hurried, and argue that it will lead to higher ticket prices without properly combating the problem.
msh/dr (dpa, SID)