Schäuble unveiled a 10-point plan Sunday that he detailed in the "Handelsblatt" and "Die Welt" newspapers that seeks to clamp down on tax havens in the wake of the Panama Papers scandal which revealed how offshore companies are used to hide massive wealth for the rich and well-connected.
In an interview with Germany's public broadcaster ARD, Schäuble said that if corporate registers listing the owners of firms were networked internationally, it would be possible to find all the people hiding behind offshore companies.
"The registers should be drawn up at the national level and linked up," Schäuble told ARD.
The European Union has already agreed to create registers as part of a fourth directive on money laundering that must be implemented at the national level by mid-2017.
Fallout from Panama Papers leak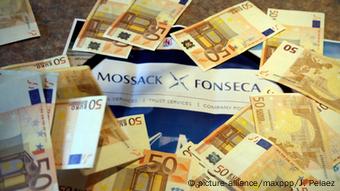 Wolfgang Schäuble said if a nation refused to share data on who controls companies, "they could be put on a so-called black list"
A massive leak of more than 11.5 million documents from the Panama-based law firm Mossack Fonseca has shown how offshore firms are used to hide the wealth of the rich and powerful, embarrassing several world leaders from Iceland to Argentina.
Germany made closer international cooperation on tax evasion a priority during its presidency of the G7 economic powers.
The finance minister also proposed reforming statutes of limitations for tax crimes.
But even as Schäuble vowed to get tough, he suggested his own country's banking sector was relatively clean. German banks had "largely put things in order already," he claimed and added: "We have made a lot of progress in recent years."
A draft of the German government's action plan - which has not been publicly released - also said tougher rules to combat money laundering had been introduced in Germany's financial sector in recent years and such progress was also needed in the commercial sector.
The proposed reforms won't go as far as some advocate. The finance minister told "Die Welt" that even in the wake of the Panama Papers scandal, Germany isn't planning to ban anonymous letter-box accounts and instead believes "full transparency is the correct path" to take.
jar/bw (Reuters, AFP)