Social media is a form of "stupidity," the 73-year-old filmmaker told the press on Monday (26.01.2016) at the Sundance Film Festival in Park City, Utah.
"What does impress you about 100,000 tweets, 100,000 times stupidities in 140 characters?" He explained that his social media is his kitchen table. "My wife and I cook and we have four guests maximum because the table doesn't hold more than six."
Herzog was in Utah to premiere his latest film, "Lo and Behold: Reveries of the Connected World," an essay on the origins of the Internet as well as the impact it has had on society. The film includes interviews with both experts and eccentrics, including PayPal co-founder Elon Musk and a rural, cellphone-less community in West Virginia.
"The Internet is an event that science fiction writers had not foreseen," he maintained, adding that writers instead had flying cars and space colonies on their radar.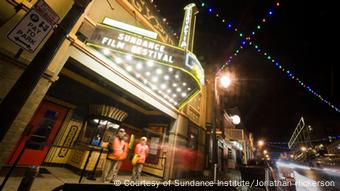 The Sundance Film Festival says it aims to "brings the most original storytellers together"
German presence at Sundance
Herzog is not the only German filmmaker to present a world premiere at the Sundance Festival. Nicolette Krebitz is showing "Wild," a drama about a young woman who rethinks her life after an encounter with a wolf.
German filmmakers are also represented in a number of co-productions. The German-Lebanese film "Halal Love (and Sex)" examines relationships in Muslim-influenced Beirut. Iranian director Rokhsareh Ghaem Maghami introduces a young female rapper in Tehran in "Sonita." And "The Land of the Enlightened" traces the everyday life of children in war-torn Afghanistan.
Founded by Robert Redford in 1981, the Sundance Film Festival offers a platform to films not produced by the major Hollywood studios. This year, 123 movies from 37 countries are being presented through January 31.
kbm/rb (AFP, AP, dpa)