He's worked with Jodie Foster and Bruce Willis, directed actors like Helen Mirren and John Malkovich, and told Hollywood legends like Morgan Freeman and Jeff Bridges what to do in front of the camera.
Despite his star-studded past, Robert Schwentke is not particularly well known in his home country, Germany, where his latest film "Insurgent" is now playing.
The sci-fi-fantasy flick with the obligatory evil rulers and good rebels, primarily directed at younger audiences, cost a whopping $110 million to make, but has already more than broken even.
"Insurgent," which opened in Germany in March one day before the US release - an unusual occurrence -, is the second part of a series of novels by American author Veronica Roth. And since Hollywood likes to make sequels to every box office success, "Insurgent" part three is already in the making, also directed by Schwentke.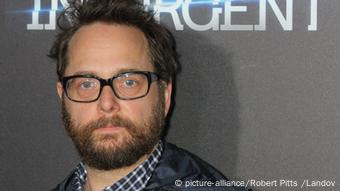 Robert Schwentke
Welcome to Hollywood
Born in Stuttgart in southern Germany in 1968, Robert Schwentke has been working in the US for over a decade. He studied filmmaking in Los Angeles before coming back to Germany to make "Tattoo" and "Eierdiebe" in 2002 and 2003, respectively. When funding for a third film didn't come together, Schwentke headed back to the US.
His Hollywood debut came in 2005 with the airplane thriller "Flightplan," featuring Jodie Foster. He followed it up with a handful of strong productions, including "The Time Traveler's Wife" (2009), "Red" (2010), and "R.I.P.D." (2013).
Schwentke has managed to carve out a name for himself in one of the most competitive businesses in the world. He's worked with the biggest stars and proven again and again that he can keep a strict budget and - most importantly - turn a profit with his films.
While Hollywood is teeming with German expats, names like Wolfgang Petersen and Roland Emmerich are much better known back home than Schwentke's is, but they've been in the business longer and belong to a different generation.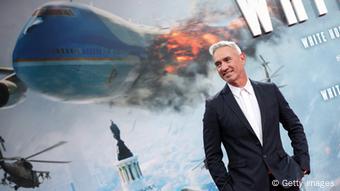 Roland Emmerich is among Hollywood's high grossing directors
Schwentke avoids red carpets and prefers to relax with a good book at the end of a long day of filming rather than having a drink with the cast, as he confessed recently in an interview.
Classics rather than blockbusters
After studying philosophy and literature for four semesters in Tübingen, Germany, the young Schwentke went to Los Angeles to study film at Columbia College. Some critics have pointed out that his background in the humanities shines through in his films.
And when Schwentke was asked in an interview with the "Frankfurter Allgemeine Zeitung" about his cinematic inspiration, he named artsy classics like "The Hunt" by Carlos Saura of Spain and "Alice in the Cities" by Germany's Wim Wenders.
In comparison, Roland Emmerich made films in late 1980s which were like ads for the movie industry, such as "Hollywood Monster" and "Moon 44." In the following years, Emmerich would become one of the most commercially successful German directors in Hollywood, just like Wolfgang Petersen.
While the accomplishments of Emmerich and Petersen have been hard to top, many of their younger German colleagues have had a tougher time getting their foot in the door. Many have returned to Germany, where there is a strong funding network.
Short-lived stints in the sun
Oliver Hirschbiegel, for example, who was once nominated for an Oscar for "Downfall" (2004), has recently brought "Elser" to German cinemas. His Hollywood stint turned out to be a disappointment.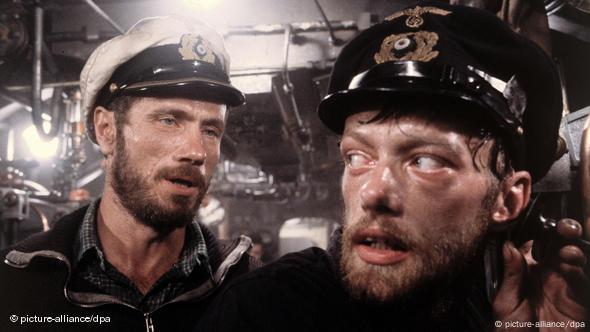 "Das Boot" opened doors in Hollywood for Wolfgang Petersen
Other young movie makers like Mennan Yapo or Marco Kreuzpaintner have also returned to Germany. And Oscar-winner Florian Henckel von Donnersmarck ("The Lives of Others") hasn't landed any major project since "The Tourist" flopped despite featuring Angelina Jolie and Johnny Depp in the leads.
Going further back in time, dozens of German-speaking filmmakers who managed to navigate the jungles of Hollywood come to mind. Without top directors like Billy Wilder and Fred Zinnemann, Josef von Sternberg and Erich von Stroheim, Fritz Lange, Friedrich Wilhelm Murnau or Ernst Lubitsch, Hollywood wouldn't be what it is today.
Though many in their generation were forced to immigrate because of the unfavorable political situation in Germany and Austria, they made the most of exile in America.
First German Oscar
After the Second World War, the generation including Wim Wenders and Volker Schlöndorff - representing what was known as New German Cinema - tried their luck in the US.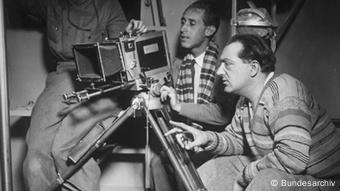 Fritz Lang was well established in Hollywood
Wenders got off to a rough start, but quickly found out it was better for him to work with independent production companies rather than the big Hollywood studios. In 1980, Schlöndorff won Germany's first Oscar for his film version of Günter Grass' book "The Tin Drum."
Unexpectedly, the uncompromising Bavarian director Werner Herzog is the filmmaker of this generation who turned out to develop the strongest roots in the US.
Back to the home country
After finishing up the "Insurgent" trilogy, Robert Schwentke plans to film in Germany again and has already secured financing for his first German project in years.
"Der Hauptmann" (The Captain) is set to be the title of the film, which tells the story of a soldier who takes on a new identity while fleeing during the final days of World War II. Cinema fans will be curious to see how Schwentke's first German film in years turns out - and certainly have good reason to be optimistic. After all, Schwentke also has at least two identities.