The fatal accident took place near the town of Rio Cuarto, around 800 kilometers from Buenos Aires on Saturday. Schultis is reported to have lost control of his car at a bend in the first leg of the race and ploughed into a group of spectators.
"Twenty-eight-year-old Sonia Gallardo died of serious head and other injuries," a doctor said in front of television cameras outside a hospital in Cordoba.
Five other spectators were also reported to be injured. Local media said a 24-year-old man was undergoing surgery, and a boy had been taken to a children's hospital for treatment.
Argentinian TV showed an image of a shocked Schultis immediately after the accident.
Eyewitness reports said Schultis attempted to seek help for the victims and that the driver was " deeply moved" by what he was seeing.
According to media reports released Sunday, Schultis quit the 2010 Dakar Rally. Race organizers said, however, that he had not been disqualified for the Saturday accident.
Spectators "not where they should have been"
Schultis barrelled into the group of spectators after losing control of his car while taking a curve on the track between Colon and Cordoba.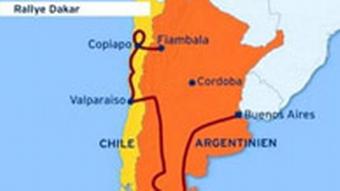 The 2009 Dakar was also held in South America
A race spokesman said the group was standing in an area where spectators were not permitted, while local media reports have said the victims were watching the race from their own property.
The Dakar Rally, or "The Dakar," originally conceived as a race from Paris to the Senegalese capital, was moved away from its traditional route through Africa last year due to threats of terrorism in Mauritania.
The 2009 Dakar was also held in South America, though changes have been made to the individual stages.
Since its inception 31 years ago, the controversial rally has claimed at least 50 lives, including both participants and spectators.
glb/Reuters/dpa
Editor: Sonia Phalnikar