Rot-Weiss Essen 2-1 Bayer Leverkusen, Stadion Essen
(Kefkir 108', Engelmann 117' — Bailey 105')
Less than 50 kilometers separates Essen and Leverkusen, but the distance in footballing terms is better measured in light years. While Bayer Leverkusen are challenging at the top end of the Bundesliga this season, Rot-Weiss Essen operate in the less glamorous fourth tier of German football. On Tuesday night, the tables were turned.
Leverkusen have only one major domestic title to their names in their 116-year history and this result ensures they will end another season empty-handed. Their nickname "Neverkusen" has rarely felt more apt.
It had been an uncomfortable night for Peter Bosz's side, which was at near full-strength despite having Moussa Diaby and Florian Wirtz benched. They both emerged midway through in Essen, but neither could inspire their side.
Leverkusen even went ahead through Leon Bailey's crisp finish, which finally broke the deadlock at the end of the first period of extra time after a goalless 90. But just four minutes later, Essen equalized at the same end of Stadion Essen, with Oguzhan Kefkir following up after Lukas Hradecky failed to deal with Marcel Platzek's effort from distance.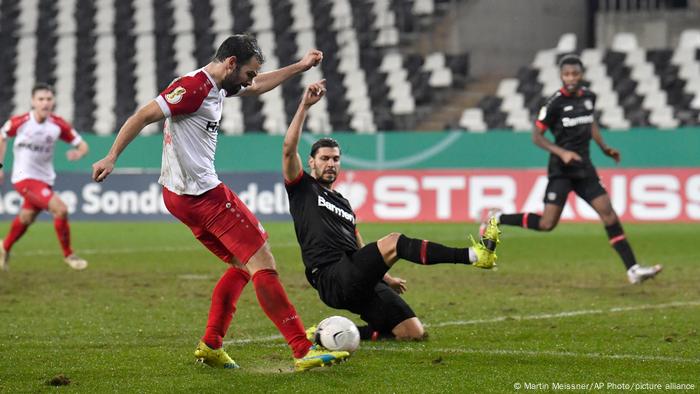 Crowning moment: Simon Engelmann rifles home the winning goal for Rot-Weiss Essen.
And as the rain failed to relent, neither did Essen. And with a shootout looming, they pounced. Charles Aranguiz was casual on the ball, that turnover allowed Simon Engelmann to be slipped in, and he pounded a first-time shot into the roof of the net from an angle, squeezing it inside Hradecky's near post.
"What we have produced as a team is really unbelievable," said Essen's joyous goalkeeper Daniel Davari at full time. "When you you trail 1-0 and then come back like that, I can't put it into words. I'm so happy.

Somewhat bewildered by his team's achievement, he then asked: "Where are we now, quarterfinals? We have to celebrate that. I won't be reachable for two weeks now!"
It's on nights like these when fans are really missed, but at least the pyrotechnics in the Ruhr Valleywent some way to make up for it. As Leverkusen struggle to shed their unwanted tag, they join Arminia Bielefeld and Fortuna Düsseldorf as Essen's German Cup victims.
Dortmund and Kiel made to sweat
Borussia Dortmund made it through to the last eight as they look to win their first German Cup since 2017 — but Paderborn took it to the wire.
First half goals by Emre Can and Jadon Sancho set Dortmund onto the road to what appeared a routine victory. But Paderborn, who were relegated from the Bundesliga last season, tightened up after the break and made a game of it.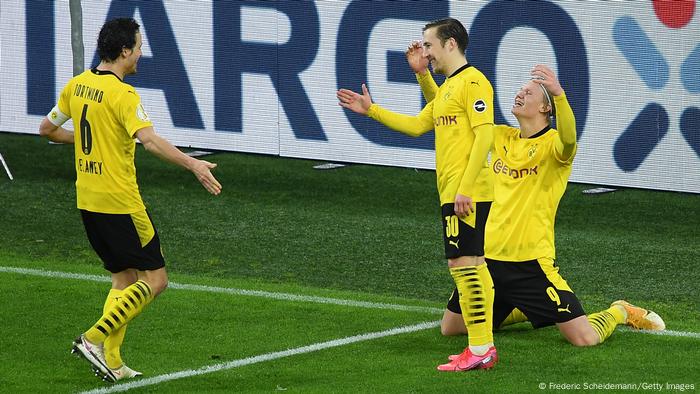 Erling Haaland scored the winner as Borussia Dortmund were pushed all the way by Paderborn
With 11 minutes to play Paderborn's Julian Justvan halved Dortmund's advantage. The visitors then made it 2-2 in the seventh minute of second stoppage time with a Prince Owusu penalty, which came moments after Erling Haaland thought he'd made it 3-1, only for the Norwegian's goal to be ruled out and a Paderborn penalty awarded for a foul by Felix Passlack.
However, Dortmund overcame that blow and Haaland scored the winner in extra time to make it 3-2, much to their relief.
Bayern Munich's conquerers Holstein Kiel made it through against fellow second-tier side Darmstadt, but they did it the hard way. Janni Serra had given them the lead early in the second half but conceded four minutes before the end when Serdar Dursun struck. It went to penalties after no further goals in extra time with the hosts winning a gripping shootout 7-6.
In the other game of the night, Werder Bremen saw off second tier Greuther Fürth 2-0 with the goals coming each side of the break from Kevin Möhwald and then Felix Agu.