According to his sons, Enoch zu Guttenberg passed away in his home in Munich on Friday after a brief, severe illness. The conductor's date book for the coming season was full.
Zu Guttenberg was the director of the KlangVerwaltung (Sound Administration) Orchestra and the Neubeuern Choral Association and frequently took the two ensembles on tour to places as far afield as the Concertgebouw concert hall in Amsterdam or the Hong Kong Music Festival.
A respected conductor of sacred music, his regular performances of Bach's passions and Christmas Oratorio were eagerly followed by his fans. He was also active as a guest conductor, notably of the Berlin Staatskapelle (State Orchestra) and the Bamberg Symphony.
Enoch zu Guttenberg was born into a family of nobility on July 29, 1946 in Guttenberg, a village of less than 500 souls near Kulmbach in the upper Franconian region of Bavaria. The zu Guttenberg family had resided there since the 12th century. He could frequently be seen relaxing in a horse-drawn coach there.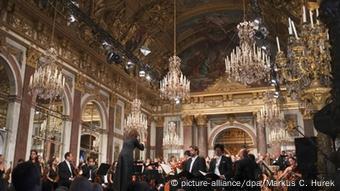 The Herrenchiemsee Festival is the site of glamorous performances
Environmentalist and protestor
Enoch zu Guttenberg was the father of the German politician Karl Theodor zu Guttenberg, a former defense minister.
In 2000, zu Guttenberg was asked to lead the Herrenchiemsee Festival, located in the 19th century palace of that name built by Bavarian King Ludwig II. The festival drew a loyal and mostly well-situated audience, and the performances led by zu Guttenberg himself were favorites. He was scheduled to conduct several concerts at Herrenchiemsee in the current season as well.
Zu Guttenberg was the recipient of an Echo Klassik award for his recording of a symphony by Anton Bruckner but returned it in the wake of the recent scandal involving two rappers winning an award despite their anti-Semitic texts.
An active environmentalist, he co-founded the Bund für Umwelt und Naturschutz Deutschland (Association for the Environment and the Protection of Nature in Germany) in 1975 but left it in 2012 in protest of the association's advocacy of wind energy.