Parliamentary ombudsman for Bundeswehr personnel, Hellmut Königshaus, said on Tuesday that past German focus on equipping its troops in Afghanistan had left facilities at home dilapidated.
He called for massive additional investment by parliament on its armed forces, saying there was a "visible tendency" already into a "downward spiral."
NATO combat operations, including up to 4,700 German troops at peak, were ended late last year and replaced by a mission to train Afghans.
Königshaus said neglected Bundeswehr infrastructure within Germany coupled with weapon faults, insufficient training for foreign deployments and frequent stationing of soldiers away from their families had left Germany's troops facing "unacceptable overloads."
And that put at risk von der Leyen's plan to turn the Bundeswehr into an attractive employer for professional recruits, he added.
Germany abolished military conscription in 2011.
Third of barracks unfit
Königshaus said billions of euros were needed to repair Bundeswehr infrastructure, far beyond the 500 to 750 million euros ($566 to $849 million) suggested by von der Leyen on Monday.
His said more than a third, or 38 percent, of barracks had large defects. Nine percent, or 269 out of 3,000, of all Bundeswehr buildings were actually uninhabitable, he said.
Despite this, many were still in use, exhibiting mould and rust, sewage odors and defect heating radiators in washrooms during winter, he said.
Comments follows auditors' assessment
The commissioner's call to fix the catalogue of deficiencies follows a stinging auditors' report in October, which prompted wide discussion in Germany. The auditors listed equipment disrepair, including tanks and navy helicopters grounded or disabled, partly because spare parts were lacking.
Königshaus' annual report to parliament, comprising 115 pages, said soldiers in weapons training had even been told to bend the rules. In one case, a manipulated machinegun has fired off 150 rounds. No one was wounded, but only through coincidence, he said.
He also urged generals to spread resources more widely and provide more personnel to units facing constantly high burdens, such as military medics and air transport crews.
The commissioner said soldiers had sent him 4,645 complaints during the year, signaling a "continuing high level."
Motives for 24 suicides and 43 attempted suicides during 2014 mostly lay in soldiers' private lives, Königshaus said, adding that separation from family had for some been a factor.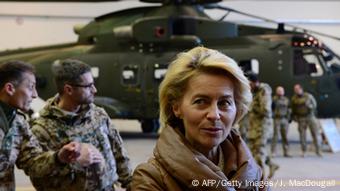 More funds, promises von der Leyen
'Need for modernization'
Replying on Tuesday, von der Leyen admitted that the Bundeswehr had a "considerable need for modernization."
"2014 was the year in which problems were placed massively on the table," she told the commercial German television channel N-TV.
Königshaus belongs to the liberal Free Democrats (FDP), who lost all their seats in Germany's parliament in the last federal election.
In May, he is to be succeeded as commissioner by Hans-Peter Bartels of the Social Democrats (SPD), who govern with Chancellor Angela Merkel's conservatives.
ipj/kms (dpa, Reuters, epd, KNA)