George Orwell's novel, "1984," has topped the bestseller list in the US this week after a series of inaccurate statements were made by US President Donald Trump and members of his administration.
Parallels to the book were already being made after Trump made the unfounded allegation that millions of illegal votes were cast against him in the fall election. The connection was boosted when Kellyanne Conway, an adviser to President Trump, spoke of "alternative facts" during a television appearance Sunday, referring to White House Press Secretary Sean Spicer's defense of Trump's assertion that the inauguration had been better attended than any before it.
The statement sparked a storm on social media, with even the Merriam-Webster's Dictionary getting involved in order to set the record straight on what a "fact" is.
First published in 1949, Orwell's classic is a dystopian tale which takes place in a society where facts are distorted and suppressed in a cloud of "newspeak." Michiko Kakutani, "The New York Times" book critic, found one passage particularly insightful: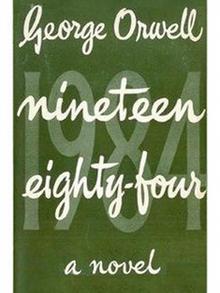 1984 was originally published in 1949 about a dystopian future
By Tuesday evening, sales of the book had shot to number one on Amazon.com. The book is in such high demand that the publisher Penguin has scheduled an additional print run of 75,000 copies. "The Hollywood Reporter" also notes that a movie is also in the works by Sony and director Paul Greengrass, making it the third adaptation of the book.
Those already familiar with the book have taken to using passages from it alongside current events to explain what is happening. Brian Klaas, author of the book "The Despot's Accomplice: How the West Is Aiding and Abetting the Decline of Democracy" and fellow at the London School of Economics, used a quote from the book to draw attention to a string of tweets about climate change that the US National Park, the Badlands, had sent out.
"1984" is not the only decades-old book to storm the bestseller lists this week due to political events. Sinclair Lewis' 1935 novel, "It Can't Happen Here," about the election of an authoritarian president, was at number 46 as of January 25, 2017. Aldous Huxley's dystopian novel "Brave New World," published in 1932, landed back on the list at 71, while Hannah Arendt's non-fiction work, "The Origins of Totalitarianism" has also seen an uptick in sales.
ct/kbm (AP, AFP)