Since the EU's General Data Protection Regulation (GDPR) went into effect on Friday, internet users in the bloc have had to deal with unforeseen consequences, including US newspapers blocking access and some companies suspending support for their products.
The Los Angeles Times, Chicago Tribune and Orlando Sentinel – all newspapers owned by Tronc media company – displayed messages saying their websites are "currently unavailable in most European countries."
"We are engaged on the issue and committed to looking at options that support our full range of digital offerings to the EU market," said the Los Angeles Times on its website.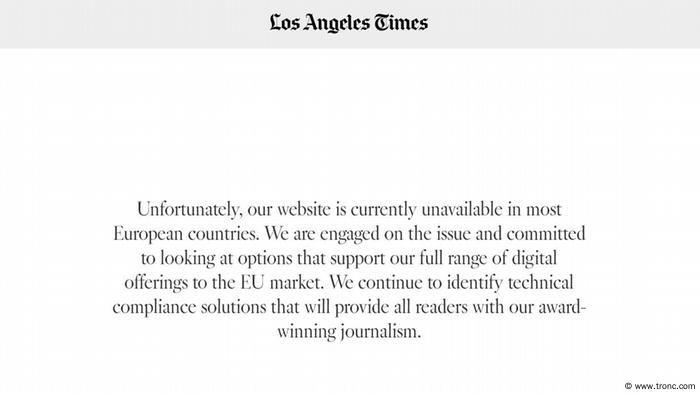 Tronc-owned newspapers in the US shut down access to people in the EU
Instapaper, a bookmarking service owned by Pinterest, suspended its service to European clients as it makes "changes in light of GDPR." But that's not the only fallout.
Social media users have criticized companies for sending emails about their privacy policy updates, only to forget to hide the mailing list and effectively end up sharing scores of email addresses.
A Twitter user described it as "doomsday."
'Forced consent'
Aside from the issues that have plagued GDPR's first day, rights groups have also signaled that companies could be held responsible for poor adherence and questionable practices.
Noyb, a digital rights group based in Austria, announced on Friday that it filed four complaints against Google's Android application, Facebook, WhatsApp and Instagram for "forced consent."
Read more: Privacy is not dead, but it's going to cost you
The group said that instead of making users feel free to make a decision on a service's privacy policy, "the opposite feeling spread on the screens" of users.
"Tons of 'consent boxes' popped up online or in applications, often combined with a threat that the service cannot … be used if users do not consent."
Max Schrems, a lawyer and chairman of Noyb, said Facebook's actions reminded him of "North Korean election process."
"In the end, users only had the choice to delete the account or hit the 'agree' button – that's not a free choice," said Schrems.
Every evening at 1830 UTC, DW's editors send out a selection of the day's hard news and feature journalism. You can sign up to receive it here.