Gambia's pledge to leave the Hague-based court on Tuesday comes just days after the troubled nation of Burundi and the regional powerhouse South Africa made similar announcements. Kenya is also considering withdrawal.
The decision, according to Gambia's Information Minister Sheriff Bojang, is due to the International Criminal Court (ICC) ignoring war crimes committed by Western countries.
In a pointed play on the court's name, Bojang called it "an International Caucasian Court for the persecution and humiliation of people of color, especially Africans."
Anger over Blair
The court showed its "true colors" by refusing to prosecute former British Prime Minister Tony Blair for war crimes in Iraq, Bojang said in a televised statement.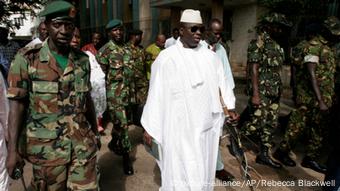 Gambian President Yahya Jammeh has ruled the nation since 1994
"There are many Western countries, at least 30, that have committed heinous war crimes against independent sovereign states and their citizens since the creation of the ICC, and not a single Western war criminal has been indicted," he added.
Since the establishment of the ICC in 2002, the court conducted ten investigations. Nine of them were over crimes on African soil and the remaining case was tied to offenses in Georgia.
The ICC's current chief prosecutor, Fatou Bensouda, is Gambian and a former justice minister in the small African state. She also served as an advisor to President Yahya Jammeh.
Gambia decries 'racist' genocide
During the Tuesday statement, the information minister said that the country had tried to get the ICC to react to "genocide" over migrants trying to reach Europe. A disproportionately large number of them are citizens of Gambia, fleeing the troubled country with a population under two million.
"Thousands of young Africans in search of greener pastures have been dying on European coasts on weekly basis," Bojang said. "For what crime - because they are black?"
"We depend on almighty Allah and Allah-willing all the racist, genocidal criminals responsible for the continuing mass slaughter of Africans will face justice," he added.
Gambia's strongman President Yahya Jammeh plans to seek his fifth term in office in the December election, with rights groups accusing him of cracking down on dissent.
dj/gsw (Reuters, AFP)