Hamburg has been under pressure for months in preparing for the upcoming G20 summit from July 7-8. The huge political event, where numerous international leaders will meet in the Hanseatic city, has even been a hot topic - especially in the city's world-famous Reeperbahn neighborhood.
Should US President Donald Trump's vehicle convoy race through the entertainment district, with its countless nightclubs, bars and theaters, the American leader might even catch a glimpse of himself. A huge photo-like portrait of him hangs from the facade of a building there. In a seated position, he seems to have nodded off in this depiction of him.
"Mensch, wach auf" ("Man, wake up") is written in small letters in the corner. It's actually an ad for a Hamburg-based cola maker, but it's a prominent sign that the G20 summit is a major topic in Hamburg's culture scene.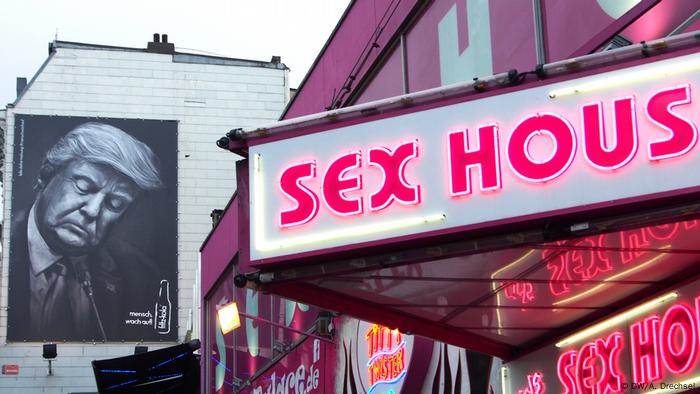 An unlikely sight: Trump, fast asleep in Hamburg's red-light district
Demand for smarter investments
The Hamburg street art duo SUTOSUTO is behind the portrait, but the language of their images is normally a little bawdier than that. Visitors can see that in the Millerntor Gallery: one image shows a pig with Trump's face as it gleefully rubs its behind with the US flag.
"If Trump were to see this, he would be tweeting all about it and we would be world-famous within minutes," said Susanne Dallmayr, looking at her picture and grinning.
Dallmayr and her SUTOSUTO partner Thomas Koch are not only upset at the prospect of having the US leader in their city, but even more so at the fact that the G20 summit is costing millions of euros.
"People could better invest that money in clean water for Africa, for instance, or for Southeast Asia or South America," said Koch.
It's wrong to invest in "police operations for capitalistic cronyism and global oppression through government officials," he added.
'The most powerful in a headlock'
There's a huge wave of reactions rippling through Hamburg's cultural scene with regard to the G20. Numerous exhibitions, performances and presentations are running parallel to the global summit.
"Get your damn job done!" demand some of the cabaret acts performing during the summit - such as Sebastian Richartz, Hans Scheibner and Saskia Brzyszczyk.
Alongside five other satirists, they want "to put a headlock on the most powerful leaders in the world with their dirtiest numbers." Proceeds from the performance are to go to Amnesty International.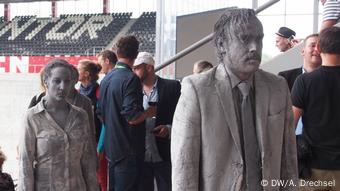 Zombie-like figures move through Hamburg to draw attention to ignorance and complacency
The Global Citizen Festival likewise aims to entertain, but also to motivate people to become politically active. World-famous musicians and bands like Coldplay, Shakira, Ellie Goulding, Herbert Grönemeyer and Pharrell Williams will all perform at the event on July 6.

Other cultural programs include a film festival in Hamburg's Abaton cinema focusing on living conditions in G20 nations including China, Turkey, Russia and the United States.
A summit for global solidarity will take place in the Kampnagel Kulturzentrum. Discussions and workshops, including participants from more than 20 countries, will critique current political policies and develop strategies to "enforce a world of solidarity."
'1,000 Gestalten' are everywhere
The art project "1,000 Gestalten" (1,000 figures) already seems to be present everywhere across the city. Actors covered in a gray crust and with wide-open - yet empty - eyes move through the city, increasing in number as the summit nears. Their message is clear: Don't become complacent zombies. Be active and involved.
Syrian painter Abdalla Al Omari also has a clear message to share. In his "The Vulnerability Series" of images, the 31-year-old depicts world politicians as displaced persons. "I originally only created the pictures for myself," he said. "I wanted my own personal revenge. But things changed over the course of the three-year project.
"The more I looked at the painted pictures of the politicians, the more I saw their vulnerability."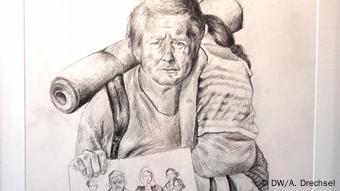 Abdalla Al Omari has gained fame with images of major world leaders depicted as displaced people
During the summit, people can view the pictures of Trump, German Chancellor Angela Merkel and Syrian President Bashar al-Assad depicted as displaced persons in Affenfaust Gallery. "We think Abdalla's pictures in the context of the G20 summit are a fitting exhibition," said gallery owner Frederik Schäfer.
"The 'Vulnerability Series' can reach a lot of people who normally may not have much to do with art," he added. "The pictures are elementary, but have a strong impact."
Art prompting change
Al Omari, who fled his home country in 2012 and settled in Brussels, actually wants to make art for art's sake, and not necessarily to convey political messages. "But it's not the right time yet," he said.
He hopes that the meeting of world leaders in Hamburg will result in something specific, because politics have to change, he said.
"I hope my art contributes to that change."