Chemnitz is on high alert as far-right and far-left protesters and counter-protesters once again descended on the eastern German city on Monday, following a spontaneous anti-immigrant demonstration the day before.
By Monday evening, a large contingent of police officers was keeping apart some 1,000 right-wing demonstrators from an equally large nearby group of counter-protesters. However, as the crowds grew increasingly rowdy, protesters from both sides hurled pyrotechnics and other objects at each other, leaving several people injured and requiring hospital treatment.
Footage showed the right-wing "Pro Chemnitz" movement unfurling a banner with a quote from the early 20th century poet Anton Günther reading "German and free we aim to be." According to DW's Charlotte Chelsom Pill, the rightist group was preparing to march through the city.
Meanwhile, left-wing demonstrators were seen chanting "National Socialism out of people's heads" and "There is no right to Nazi propaganda."
Barbara Ludwig, the Social Democratic mayor of Chemnitz, urged for prudence from both sides.
Stabbing triggers anti-migrant demonstrations
Monday's events were a continuation from Sunday's protests, which were triggered by the fatal stabbing of a 35-year-old German in an overnight altercation. Police said the knifing occurred after an incident involving "several people of different nationalities." Two men, a 23-year-old Syrian and a 22-year-old Iraqi, are in custody, with state prosecutors calling for an arrest warrant.
The men are suspected of having stabbed the victim several times "with no justifiable reason," the prosecutors said on Monday.
Two other men, aged 33 and 38, were said to have been injured in the incident.
Several government officials have condemned the right-wing violence, including Chancellor Angela Merkel, who said the far-right demonstrators were "hunting down" foreigners.
Bottle-throwing protesters
Sunday's anti-immigrant demonstration, which was largely organized via social media and involved some 800 people, forced authorities to declare an end to the city's traditional street festival four hours earlier than planned.
The protesters marched through the inner city. According to police, they did not react when addressed by officers and showed "a lack of willingness to cooperate." Some participants threw bottles at officers, police said, adding that reinforcements from Dresden and Leipzig had to be brought in to quell the protest, which lasted around 75 minutes.
The demonstration was preceded by a smaller gathering of some 100 supporters of the populist Alternative for Germany (AfD) party, which had also called for a rally following the knifing. Police said the crowd broke up after about an hour without incident.
Footage circulating on social media showed demonstrators at the larger rally chanting "We are the people" — a phrase originally used by people protesting against the former communist East Germany that has since been usurped by the far-right scene.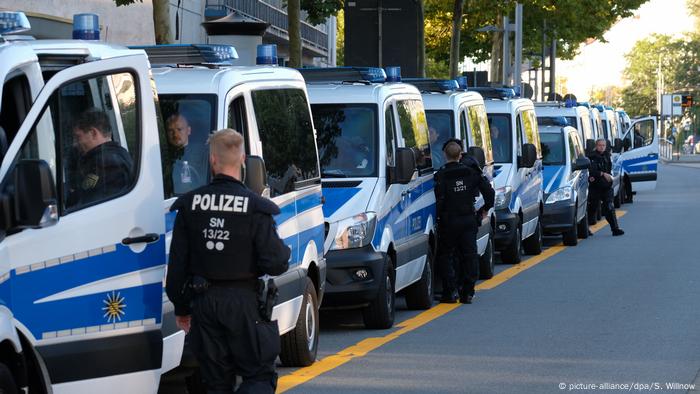 Police were forced to call in reinforcements
Read more: Germany: Fewer attacks on migrants
Criticism of police
The mayor of Chemnitz, Barbara Ludwig, told public broadcaster MDR that she was horrified by events.
"It is terrible that people can organize to meet up and then put an end to a city festival, run through the city and threaten people," she said.
In comments to dpa news agency, Left party politician Kerstin Köditz also criticized police for having taken too long to react.
"Why did it take so long to get together enough forces? When information starts to trickle through that someone has died during a city festival, the police should really have been ready to go in," she said, adding that she hoped police had the demonstrations announced for Monday "on their radars."
AfD 'can understand'
The anti-immigration party AfD also condemned the "excesses of violence" in Chemnitz, but at the same time expressed understanding for protesters' anger.
"I can by all means understand that the circumstances of the crime, with all the speculation, could mislead the odd person into carrying out imprudent acts," said the vice chairman of the Saxony AfD branch, Siegbert Droese. Droese said that the AfD had ended its demonstration in Chemnitz early so as not to become involved in the larger rally.
AfD delegates in Saxony's parliament also repudiated a comment made by their party colleague, Markus Frohnmaier, who wrote on Twitter that "when the state can no longer protect its citizens, people take to the streets and protect themselves. Very simple!"
Jens Maier, an AfD parliamentarian who used to be a judge in Dresden, said: "We are not very happy about that," adding that the AfD was a "constitutional party" that did not question the state's monopoly on the use of force.
dm, tj/es (dpa, epd, AFP, Reuters)
Each evening at 1830 UTC, DW's editors send out a selection of the day's hard news and quality feature journalism. You can sign up to receive it directly here.