Staff at France's state rail operator, SNCF, walked off the job on Monday night, kicking off a three-month strike that will also include union workers in the energy and garbage collections sectors.
The walkouts are a nationwide challenge to French President Emmanuel Macron's plans to increase competition in the public sector. Macron has so far encountered little effective resistance to his economic reform initiatives. The strikes will also test the strength of the historically powerful French unions.
What we know so far
SNCF rail workers will work for two out of every five days in strikes expected to last through June and bring major delays to France's 4.5 million passengers.
Some 85 percent of high-speed trains and 75 percent of regional trains are expected to come to a halt, the SNCF has said.
Three out of 4 Eurostar trains to London and Belgium are expected to run, as are most Thalys trains to Belgium and the Netherlands, but nearly all trains to Spain, Italy and Switzerland are expected to come to a halt.
Trash collectors and energy sector staff will also go on strike over proposed reforms to the state-controlled sectors.
Separately, Air France workers will walk off the job over pay, meaning air travel will also be disrupted.
Read more: French workers to take to streets as Macron plots next cuts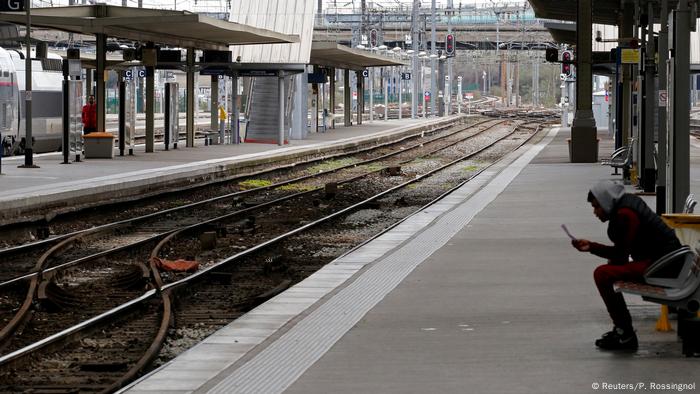 France's state railway, the SNCF, has warned of major delays due to strike
'Months of chaos'
SNCF boss Guillaume Pepy indicated that the mass strikes would upset travel for many in France: "I want to be very clear ... the strike action will no doubt be widely adhered to and his going to make the lives of a lot of people very difficult,"
"French people don't want to put up with three months of chaos that has no justification," French Transport Minister Elisabeth Borne told weekend newspaper Le Journal du Dimanche.
In an interview with French radio, Philippe Martinez, the head of the CGT, one of France's major national trade unions, said: "It's a public service, so we say 'no' to any competition."
Read more: Emmanuel Macron takes on unions as labor reforms hit SNCF railways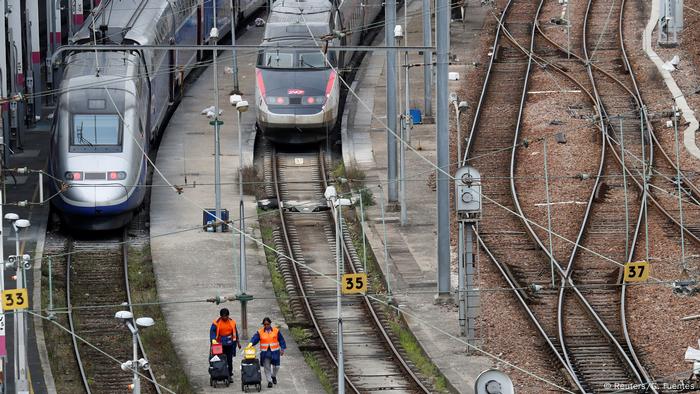 The state-owned SNCF has massive amounts of debt
A test for the president and the unions
The SNCF fears that Macron's proposals to cut rail workers' benefits is the first step towards privatizing the national rail system.
The widespread, coordinated industrial walkout could pressure the president to adjust his proposals, as other French union strikes have forced Macron's predecessors to do in the past.
France's unions may not be backed by as much public support as in prior times, meaning the strikes could draw the ire of the French people rather than their sympathy.
How we got here
Macron, who was elected last year on a platform of economic transformation, successfully instituted labor market reforms via executive order last October with minimal protests. However, his proposal to slash benefits for SNCF workers as part of a larger plan to make the debt-ridden state train operator more competitive internationally does not sit well with the sector, nor do his similar cuts plans for workers in the energy and waste sectors.
Read more: France: Public workers stage nationwide strike against Macron's labor reforms
What happens next
Travelers to and within France can expect major travel delays over the next three months, or as long as the rail strikes persist.
In addition, waste could build up on the streets.
President Macron will have to balance his desire to enact his reforms with the power of the unions and the level of support and patience shown by the French people.
Each evening at 1830 UTC, DW's editors send out a selection of the day's hard news and quality feature journalism. You can sign up to receive it directly here.
cmb/se (AFP, AP, Reuters)