French President Emmanuel Macron proposed a monthly increase in the minimum wage of €100 ($113) in a televised speech to the nation on Monday. He said he would speed up tax cuts and raise wages at a "historic time" for France.
"We will respond to the economic and social urgency with strong measures, by cutting taxes more rapidly, by keeping our spending under control, but not with U-turns," Macron said during his statement on Monday evening. He also encouraged employers to make a special, end-of-year payment.
Speaking after the fourth weekend of anti-government "yellow-vest" protests, Macron said no amount of anger justified attacking security forces or public buildings. Calm and order must reign, he said.
However, in a conciliatory tone he said: "I understand I have hurt some of you with my statements."
'Half measures'
Political opponents have criticized Macron's response as insufficient.
"Emmanuel Macron thought he could hand out some cash to calm the citizen's insurrection that has erupted," said Jean-Luc Melenchon, leader of the far-left La France Insoumise. "I believe that Act V [of the protests] will play out on Saturday."
"In terms of substance, these are half measures. We can feel that Macron has got a lot more to give," Benjamin Cauchy, one of the faces of the movement, told France 2 television.
<div class="opinary-widget-embed" data-poll="do-you-think-president-macrons-policies-" data-customer="deutschewelleeng"></div> <script async type="text/javascript" src="//widgets.opinary.com/embed.js"></script>
Earlier, Macron met with lawmakers, trade unions and business leaders to discuss the recent unrest. He said he plans to meet with mayors and others to listen further to grievances.
Macron said the protests stemmed from "40 years of malaise."
Over the weekend, in the fourth weekend of protests, French police arrested more than 1,700 people who took part in nationwide demonstrations against high living costs and Macron's perceived elitist governing style.
Economic hit
Olivier Dussopt, a junior minister for public accounts, told French broadcaster that the new measures would cost €8-10 billion ($9.1-$11.4 billion). "We are in the process of fine-tuning and to see how to finance it."
The protests have already affected the French economy. Ahead of Macron's speech, the Bank of France said the unrest had lowered its growth forecasts for the fourth quarter from 0.4 percent to 0.2 percent.
But meeting protesters' demands could endanger Macron's efforts to keep France's deficit below a European Union-mandated cap of 3 percent of GDP. The government estimates a 2.8 percent deficit in 2019.
Macron said in his statement on Monday that he would not reinstate a wealth tax he abolished last year. It had been imposed 30 years ago by socialist President Francois Mitterand. Macron replaced that tax with a new household tax aimed at encouraging people to invest their savings in stocks and bonds to help French companies grow.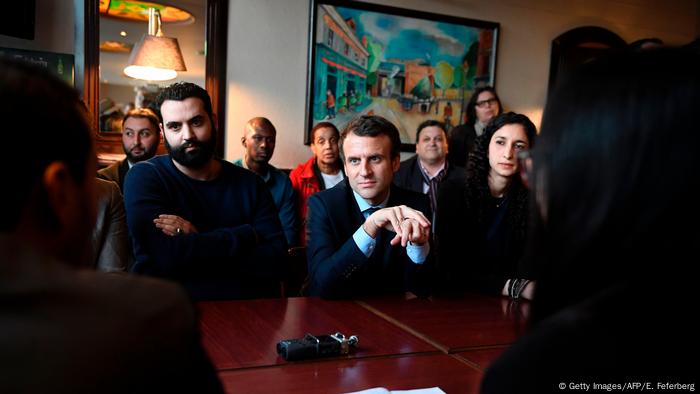 During his election campaign, Macron had made a point of going out to meet and discuss issues with voters
Are the measures enough?
The yellow vest movement has been remarkable for its lack of formal leadership.
Organized via social media and away from mainstream trade unions and political parties, it has been a nationwide response to a range of grievances, cutbacks in social services and high living costs. Its participants range across the political and social spectrum.
Macron's own rise to power came via an unusual route, setting up his own La Republique en Marche party. He spent a lot of time during his campaign at town hall meetings, saying he was listening to voters and their demands.
amp/jm (Reuters, AFP)
Every evening at 1830 UTC, DW's editors send out a selection of the day's hard news and quality feature journalism. You can sign up to receive it directly here.