Nine French police officers were injured late on Saturday in clashes that broke out during protests in two cities over changes to France's labor laws.
In the southern city of Montpellier, French radio station Franceinfo reported that a group of ultra-left protesters clashed with police following an anti-government rally where police arrested 51 people, according to the Interior Ministry.
Read more: The great train debate: what's to be done with France's SNCF?
In western France, 2,500 officers were called to clear out a building northwest of Nantes, which had been occupied for years after initially being the site of protests against an airport project that was dropped in January. During the first clearance effort, petrol bombs were thrown at officers.
The protests on Sunday escalated to the point that protesters were throwing objects at officers. Police responded with tear gas and water cannon, and 12 people were arrested.
Read more: Emmanuel Macron's labor market reform — uncontroversial and insufficient
Interior Minister Gerard Collomb responded to the protests, denouncing them as "unprecedented acts of violence."
Workers in numerous industries have been striking over the labor law reforms, including staff at Air France, but rolling strikes from railway unions, above all, have caused huge problems for commuters, with transport disrupted across the country.
Why is the labor law changing?
President Emmanuel Macron is to address the country on national television on Sunday to explain his French economy reforms.
So far, Macron has said the reforms are aimed at making France more competitive on a global scale.
France's national state-owned railway company SNCF has €46 billion ($56.5 billion) of debt and Macron wants to address this before the domestic passenger rail service goes to tender in 2019, following an agreement by European Union transport ministers that open-access passenger operators can compete with current national railways.
Read more: France: Public workers stage nationwide strike against Macron's labor reforms
Some feel that a safer, more reliable and perhaps cheaper train network would be more popular with SNCF's 4.5 million daily users, many of whom complain it has been neglected as decades of investment went into the high-speed TGV train network.
Under the reforms, SNCF's legal corporate status would change from being a state enterprise to a limited or joint-stock company.
To make SNCF more competitive, Macron's government thinks it should be a legal entity in its own right, with more independent management.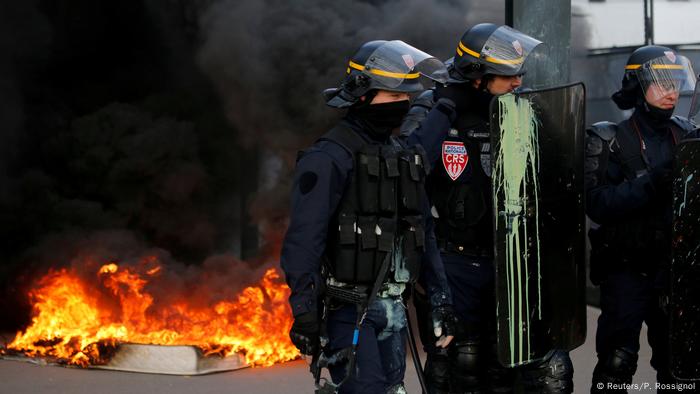 Police in Nantes faced off with angry protesters
Why are the unions angry?
Opponents of the reforms are concerned that creating a limited company will lead towards privatization, despite the government insisting SNCF will remain fully state-owned.
Under the reforms, new railway workers will not be given the job-for-life guarantees of the current 150,000 rail workers, and they won't get the automatic annual pay increases that SNCF employees have received for decades.
The rail unions say it is not their employment benefits that have caused SNCF to accumulate so much debt, but rather the large amount of spending on the TGV.
The CGT union is against all of the reforms affecting SNCF, while the more reform-minded CFDT union is unhappy that the government is pushing the reforms through and refusing to commit to writing off the SNCF's debt, which is increasing by €3 billion a year.
It is likely that early retirement rights will also be revoked, but this will be done as part of a separate reform to the French pension system.
Another protest was planned for Sunday at Notre-Dame-des-Landes in western France.
law/tj (AP, dpa, Reuters)
Each evening at 1830 UTC, DW's editors send out a selection of the day's hard news and quality feature journalism. You can sign up to receive it directly here.