Russia's embassy in France on Tuesday said Suleiman Kerimov, a prominent lawmaker and billionaire, was detained by French police, reported state-run TASS news agency.
"Suleiman Kerimov was detained at the airport of Nice late on November 20, he was taken to a police station," the embassy said.
Read more: Russian money flows into Germany despite sanctions
"At the present time, all Russian consular services stay in constant touch with the French authorities, all possible assistance is provided to the Russian senator."
Kerimov represents his home state of Dagestan in Russia's upper house of parliament. Russian Foreign Ministry officials said that he had a diplomatic passport and "cannot be detained on foreign soil" due to his diplomatic immunity.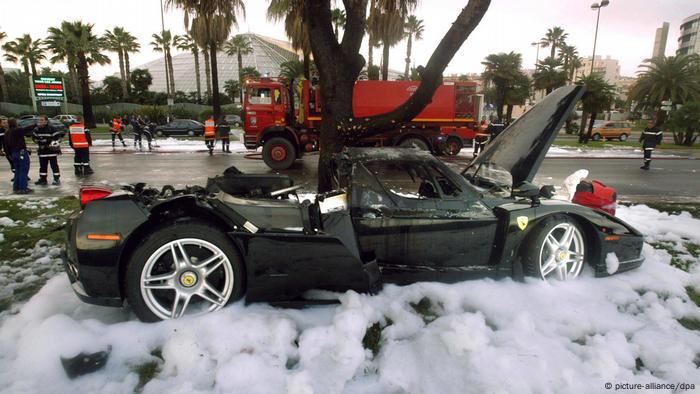 In 2006, Kerimov wrecked his Ferrari Enzo in Nice and received treatment in the serious burns unit of "La Timone" hospital in Marseille
'Secret oligarch'
French prosecutors told Reuters news agency that Kerimov "is being held for questioning in a case related to laundering of tax fraud proceeds."
A source cited by the Reuters news agency said the case focused on the purchase of several luxury mansions on the French Riviera.
The story linking Kerimov with the properties originally surfaced in March. At the time, Kerimov's aide publicly stated that the official owned no real estate outside of Russia.
Dubbed the "secret oligarch" by the London-based Financial Times for shying away from the limelight, Kerimov is ranked Russia's 21st wealthiest businessman, believed to be worth $6.3 billion (5.37 billion euros).
Read more: Deutsche Bank 'expects to face Trump-Russia probe'
Kerimov has a history in Nice after he crashed his $650,000 Ferrari Enzo on the coastal city's Promenade des Anglais in 2006, nearly killing himself and Tina Kandelaki, a well-known TV presenter in Russia.
It is unclear how long police are expected to hold him in detention or whether they plan to charge him with criminal action.
ls,dj/kms (AP, Reuters, TASS)