In 2004, Peter Raue -- Berlin's top arts lawyer and unofficial culture impresario -- clinched a deal with the Museum of Modern Art in New York enabling 200 works of 20th century modern art to be dispatched across the Atlantic for a seven-month show at the Mies van der Rohe-designed Neue Nationalgalerie (New National Gallery) in Berlin.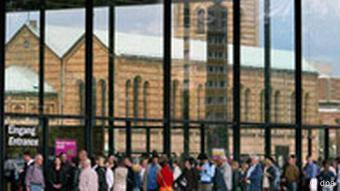 "MoMa in Berlin" was a real crowd magnet
Some 1.2 million people flocked to see the hugely successful exhibition.

This time, the debonair art connoisseur secured a five-month loan of some 150 French 19th century art masterpieces belonging to the Metropolitan Museum of Art on New York's Fifth Avenue.

Paintings by Ingres, Corot, Courbet, Puvis de Chavannes, Manet, Degas, Pissarro, Monet, Cezanne, Gauguin, Bonnard and Matisse as well as sculptures by Rodin and Maillol will go on display at the Neue Nationalgalerie in Berlin from June 1 to Oct. 7.

Berlin's "Most Beautiful French" exhibition is highlighted by five magnificent paintings by Cezanne, eleven by Courbet, 12 by Degas, and seven by Manet. Special halls are dedicated to the work of Monet and Degas.

Nine sculptures by August Rodin will also be on view, among them his spectacular "Burghers of Calais."

Foundations of modernity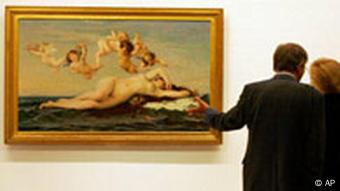 "The Birth of Venus" by Alexandre Cabanel
The Metropolitan Museum of Art has long boasted the largest and most significant permanent collection of 19th century French art alongside the Musee d'Orsay in Paris.

With France being the undisputed center of artistic development in the 19th century, the creations of that time laid the foundations of modernity as it dawned before the turn of the century.

Monumental highlights of this epoch, such as Ingres' "Odalisque in Grisaille," Courbet's "Woman with a Parrot," Manet's "Boating", Degas' "The Dance Class", Monet's "La Grenouillere," Gauguin's "la Orana Maria /Hail Mary" and Rodin's touching sculptures are all brought together for the first time in Berlin at the exhibition.

Permission to travel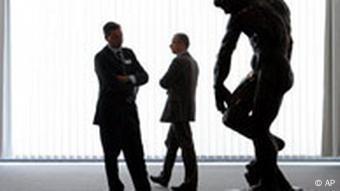 Rodin's "Adam"
Normally, the Met's prize French works are never allowed to leave the New York museum.

An exception was made by Phillipe de Montebello, the chief of the Met, when plans were drafted for the renovation and enlargement of the 19th century galleries housing the Museum's European collections this summer.

This enabled the stunning collection of French art works to be sent to Berlin. Curiously, Berlin's 2004 "MoMa" exhibition also came about in similar fashion, after the Museum of Modern Art decided its premises also needed enlarging.

Raue, a lawyer and the chairman of the city's "Friends of the National Gallery Foundation" has long enjoyed close collaborative ties with both the Met and the Museum of Modern Art in New York.

"We provide each other with generous loans," Raue said. "We cooperate on exhibitions and both the directors and curators of the two museums know and respect each other."

Crowds expected


The exhibition is expected to draw large crowds
This latest major Berlin exhibition is expected to draw huge crowds. Weeks before the official opening, 500 planned guided tours of the exhibition were fully booked out, and 1,500 first-day VIP tickets snapped up.

A supplementary French exhibition is now also being staged at the Alte Nationalgalerie on the city's Museum Island.

This museum was the first in Germany to take a serious look at French impressionist painting. Already in 1896, it had acquired a noted work by Eduard Manet titled "In the Wintergarten." Other paintings by Monet, Renoir, Degas, Cezanne and Rodin would follow.

Violet-colored pigs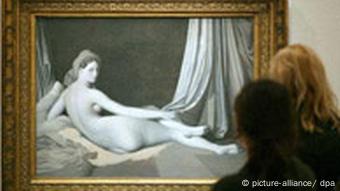 "Odalisque in Grisaille" by Jean Auguste Dominique Ingres
Hugo von Tschudi, who was the director of the Nationalgalerie from 1896 to 1908, had an often stormy relationship with German monarch Kaiser Wilhelm II over his interest in French impressionist painting.

"Please, no violet-colored pigs," barked the Kaiser when von Tschudi first met him to talk about art acquisitions in 1896.

Von Tschudi, who refused to be brow-beaten, would later establish contact with Paul Durand-Ruel, a Paris impressionist art dealer, from whom he secured not only Manet's noted "Wintergarten", but also works by Courbet, Monet, Cezanne and Degas for the Alte Nationalgalerie.

Their art clashes later came to a head when the Kaiser insisted all art gifts from wealthy patrons must from then on be agreed with him. Von Tschudi, fed up, left Berlin for a new job in Munich.