While the title might evoke German national pride in high quality workmanship, the curators of the show stress that the exhibition focuses on international artists chiefly living and working in Germany as well as homegrown ones.

Fifty-two artists -- roughly half of them German born and the other living and working here -- will be showing their work at the show which being jointly organized by the Kunstverein Hannover, the Kestnergesellschaft and the Sprengel Museum.

Martin Engler, Curator at the Hanover Kunstverein, stressed that most of the 80 works do not relate to the theme of Germany, but show a rich diversity.

"There are many reasons for artists to come to Germany or to stay here. The federal structures mean there is a density of museums, institutions, academies and galleries. We wanted to investigate what is being produced at the moment," he said.
Booming Berlin

Diverse images from South-African born Candice Breitz
At the same time, the exhibition reflects the growing importance of Berlin as an art centre. Many of the artists, no matter where they came from, live and work in the German capital.

Exhibition organizers say the show was deliberately timed to take place parallel to the world-famous Documenta in Kassel, but was not intended to steal the fire of the contemporary art exhibition, just two hours' drive further south.

"Of course, in the art world there is always a degree of competition for funding and attention, but Documenta exhibits artists from around the world. We have focused on people working in Germany," Engler.

Most of the artists in the Hanover show are also in a younger age bracket, aged between 30 and 40 on average.
Art tourism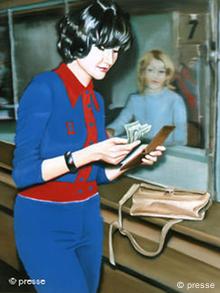 A painting by Polish-born Slawomir Elsner

But curators are hoping to capitalize on the international visitors attracted to the Documenta, which is held every five years. The 100-day event which opens on June 16 features cutting-edge contemporary artists.

Painting, in particular from the Leipzig School, may be booming on the art market at the moment, but the Hanover exhibition has a strong focus on sculpture and installations, as well as video art and photography.

"Painting is also included in the exhibition, but we wanted to look at what was happening apart from Leipzig. We've also chosen some people whose works might not necessarily be very collectable."

A number of the Made in Germany artworks were specially commissioned for the show.