Eight activists and the head of Greenpeace in France were in court on Wednesday for forcefully entering a nuclear power station in the village of Cattenom last October.
A court in the eastern town of Thionville accuses the eight defendants of committing willful damage to property. If convicted, they could each face up to five years in prison and fines of up to €75,000 ($90,125)
The environmental activists had reportedly broken through two security barriers to reach the inner perimeter of the nuclear facility.
The Greenpeace supporters then filmed themselves while setting off fireworks at the plant to protest France's heavy dependence on nuclear energy. Greenpeace spokesman Yannick Rousselet said the activists had managed to get within 100 meters (109 yards) of open pools of nuclear waste.
The group said it staged the divisive stunt in order to highlight to highlight the facility's vulnerability to attacks in addition to calls for better protection against nuclear waste.
Known for its daring and often provocative publicity stunts, Greenpeace is lobbying for France to create bunkers for these spent-fuel waste pools.
The Cattenom power plant is located about 35 kilometers (20 miles) north of the city of Metz and less than 20 kilometers south of the border with Germany and Luxembourg, resulting in the security breach causing concern in the neighboring countries as well.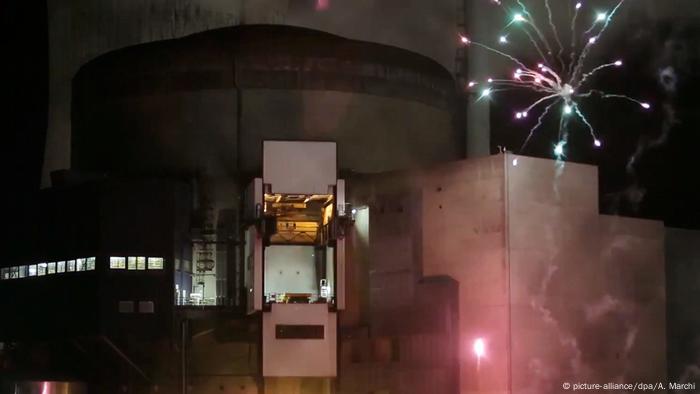 Activists launched fireworks at the Cattenom nuclear plant to highlight its vulnerability
EDF: stunt proves strength of security detail
France's state-owned energy giant EDF, which operates the Cattenom nuclear power station, said that the Greenpeace effort had failed to flag any shortcomings in safety issues, stressing that the environmental activists had been detained eight minutes after entering the site, ensuring the security of the power station as well as their own.
Olivier Lamarre, deputy head of EDF's French nuclear division, said that the Greenpeace activists were cooperative and did not resist arrest.
"Had they been ill-intentioned people, or had there been a doubt about that, things would have happened differently and within a different timeframe," Lamarre stressed at the time of the security breach. Lamarre added that the activists had "proved nothing, other than that the security detail worked perfectly."
In a tweet, EDF also highlighted that the activists had failed to reach Cattenom's so-called "nuclear zone," located behind a third barrier.
Greenpeace had published a report ahead of the stunt saying the spent-fuel pools of EDF's nuclear reactors were highly vulnerable as their confinement walls were not designed with malicious attacks in mind. EDF, however, denied that there were any such risks, stressing that the pools with nuclear waste had been designed to withstand earthquakes and flooding as well as terror attacks.
Changing attitudes towards nuclear power
The arrests and potential legal consequences after the security breach at Cattenom did not deter Greenpeace from staging a similar publicity stunt just weeks later: police arrested 22 activists on November 28 after entering the Cruas-Meysse nuclear plant in France's southeastern Ardeche region, which is also operated by EDF. Greenpeace said that the activists were once again trying to point out a lack of safety precautions around spent nuclear fuel pools.
France is one of the world's most nuclear-dependent country, with 58 reactors providing 75 percent of the country's electricity. The country hosts a total of 63 spent-fuel pools. Environmentalists have long questioned the safety of France's vast nuclear network, but around a third of all reactors in the country are set to be closed by 2025 under current government plans.
Public support of nuclear power has fallen in line with other European countries the nuclear disaster at Japan's Fukushima plant in 2011.
Germany decided to completely phase out its nuclear power program by 2022 following the events at Fukushima.
ss/rt (AFP, AP, Reuters, dpa)