Google's French unit was in court on Thursday, answering to charges of copyright infringement in a suit filed by French publishers and authors.
The claimants - publishing house La Martiniere, The French Publishers' Association and the authors' group SGDL - charge that Google's Books project, which has scanned and digitized more than 10 million books worldwide thus far, is illegally reproducing and distributing copyrighted material.
They seek a 15 million euro judgment for Google's work over the past three years, and an additional 100,000 euros a day for each day the firm continues to infringe on their copyrights.
"It's an anarchic way of brutally stockpiling French heritage," said Yann Colin, the plaintiffs' lawyer, arguing in court.
He said that digitizing a book was, in itself, reproduction, adding that "once it is digitized, you can't undo it."
Google, however, claims that it is not amassing a library, but creating a new research tool and repository for information that would otherwise be unavailable to most readers.
Meanwhile, German publishers called a news conference on Thursday to decry the European Commission's lack of action in forcing Google to track down copyright holders before digitizing their work.
Battle lines blurred
The German Publishers and Booksellers Association did not call its press conference for Thursday merely to coincide with their French counterparts' lawsuit. It was also a plea to the European Commission's legal experts to look as skeptically on deals reached between Google and the book industry as the US Justice Department has recently.
US publishers, who had once taken as antagonistic a stance toward Google Books as those in France and Germany, reached a settlement with Google last year to give the company unfettered access to published material in return for monetary considerations and Google's creation of a "Book Rights Registry" wherein copyright holders could make money from digitized versions of their work.
Two weeks ago, however, the Justice Department recommended that a court throw it out, saying the deal broke "fundamental copyright principles," and could create "diplomatic stress" with countries like France and Germany.
At the same time, however, the stance of publishers, booksellers, and librarians, even within Europe, is far from uniform.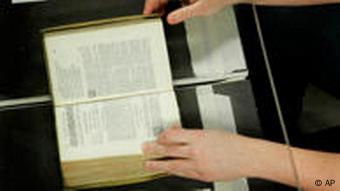 Scanning books is labor-intensive
While French publishers are suing, the French national library said last month that it was in talks with Google over the possibility of allowing the California-based Internet giant to scan a portion of its 30 million books and documents, making them available free of charge on the Internet.
And EU Commissioner for Information, Society and Media, Vivane Reding, told German daily Handelsblatt that 90 percent of all archived books worldwide were no longer in print and therefore not accessible to the public.
"It's good that new business models are developed to bring this content to the consumers," said Reding, adding that digitization was an expensive undertaking that couldn't be borne by governments alone.
Still, others say the issue is not digitization per se, but by whom and to what purpose - and that it's therefore a task which should be carried out by government.
The Director of the German Publishers and Booksellers Association Alexander Skipis said he welcomes the digitization of copyright-free material. However, he criticized the European Commission and the major participating EU states for supporting the Google project.
"States are being negligent with their cultural heritage when they turn it over to a monopolist and thereby run tax-funded projects like the European digital library Europeana into the ground," said Skipis.
Launched in November 2008, the Europeana digital library offers users access to some two million digital objects including film material, photos, maps, books, newspapers and other documents.
mrh/AFP/dpa/Reuters
Editor: Michael Lawton