Paris' Bibliotheque nationale de France (BnF) said Thursday that it is in talks with Google over the possibility of allowing the California-based Internet giant to scan a portion of its 30 million books and documents, making them available free of charge on the Internet.
Thirty libraries, including renowned university institutions at Harvard, Princeton and Oxford, are already involved in the project, which aims to digitalize both out-of-print books as well as publications that are currently on the market.
Germany rejects Google plan
If the influential BnF reaches an agreement with Google, it would mean a significant blow to the German government's adamant stance against the book search project.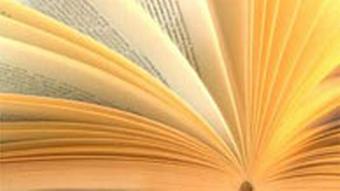 Google has said it intends to scan only excerpts of books currently on the market
"I have protested against Google and will continue to do so, as long as copyrighted works are scanned without the prior approval of the author," Bernd Neumann, Germany's minister of culture, said Thursday.
In the US, Google has reached a legal agreement with publishing houses, according to which they receive a lump sum for the books offered up for scanning. The authors themselves are not consulted.
Also on Thursday, the German Publishers and Booksellers Association issued a statement welcoming the digitalization of copyright-free material. However, it criticized the European Commission and the major participating EU states for supporting the Google project.
"States are being negligent with their cultural heritage when they turn it over to a monopolist and thereby run tax-funded projects like the European digital library Europeana into the ground," said Alexander Skipis, the association's director.
Brussels gives its blessing
Launched in November 2008, the Europeana digital library offers users access to some two million digital objects including film material, photos, maps, books, newspapers and other documents.
EU Commissioner for Information, Society and Media, Vivane Reding, told German daily Handelsblatt that 90 percent of all archived books worldwide were no longer in print and therefore not accessible to the public.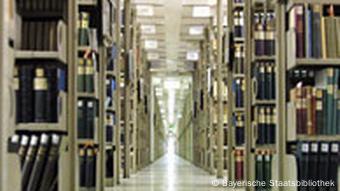 The Bavarian State Library is the only one in Germany to make a deal with Google
"It's good that new business models are developed to bring this content to the consumers," said Reding, adding that digitalization was an expensive undertaking that couldn't be borne by governments alone.
French library reconsiders
The BnF has a digitalization project of its own, with 100,000 books and rare documents being scanned each year over a course of three years. These are available on the French Web site Gallica.
In 2005, BnF's director at the time, Jean-Noel Jeanneney, was adamantly opposed to the budding Google project, which he viewed as the Americanization of European culture.
Though the German government is unyielding in its opposition to the mass digitalization endeavor, one library in Germany - the Bavarian State Library in Munich - has signed a contract with Google.
France's change of heart on the matter is another thorn in the side of Germany's ministry of culture.
kjb/dpa/AP
Editor: Susan Houlton