The French auto industry is set to secure a 6 billion euros ($7.75 billion) government loan Monday, Feb. 9, as it struggles to stay afloat during a global financial crisis. As part of the deal, France's two largest automakers, Renault and Peugeot-Citroen, will reportedly agree not to outsource car production to low-wage countries.
During the period of the five-year loan, the companies have agreed not to shut any French factory or outsource production abroad, according to news reports.
The outsourcing was a sticking point in getting an accord, the French daily Le Figaro wrote.The head of PSA Peugeot Citroen, Christian Streiff, feels it is impossible to make such promises, according to the newspaper report.
Czechs set to lose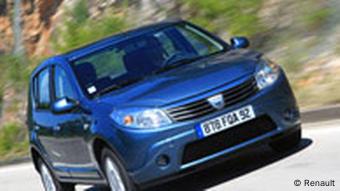 Renault is expecting heavy debts this year
The Czech Republic was singled out by Sarkozy last week in an interview in which Sarkozy said he wanted to "stop the de-localization and, if possible, to re-localize" car plants run by French producers in a bid to boost employment in an economic downturn.
That has alarmed Czech leaders. The car industry accounted for some 18 percent of Czech gross domestic product in 2007 and the country hosts a joint venture between France's PSA Peugeot Citroen and Toyota, based 60 kilometers (37 miles) east of Prague. The plant produced 324,000 cars in 2008, according to AFP news agency.
"What Nicolas Sarkozy said was incredible," Czech Prime Minister Mirek Topolanek said in an interview published in the Czech Hospodarske noviny daily on Monday.
A new EU treaty threat
He went on to say that Sarkozy's comments threatened European unity. The Czech Republic is one of the last holdouts on the European Union's Lisbon Treaty, which would streamline decision making in the 27-nation bloc. The Czech parliament's lower house has repeatedly put off voting on the treaty, which is now scheduled for February 17.
"If someone wanted to really jeopardize the ratification of the Lisbon Treaty, he could not have chosen a better way and a better time," Topolanek said in the interview. "I don't want to scaremonger, I will vote in favor of Lisbon, but here is a big country taking decisions on what will affect our lives."
Companies agree to cap pay
Although the loans to be announced Monday will not be accompanied by a partial nationalization of Peugeot or an increase of the state's 15 percent share of Renault, every industrial decision taken by the two companies will be examined scrupulously by the government, the daily Les Echos reported.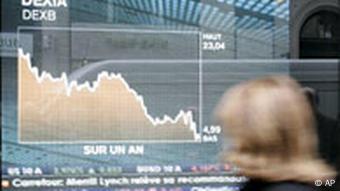 The French economy is experiencing a downturn
In addition, the companies committed themselves to reducing dividends and bonuses for their executives.
The announcement will come several days ahead of the publication of the results for last year of the two auto makers, and after several weeks of intense negotiations.
PSA Peugeot Citroen has been severely hit by the economic crisis, with losses in the second half of 2008 estimated at 2.6 billion euros.
Renault's situation is even more dire, with Credit Suisse estimating that the company's debt will rise from 3.5 billion euros in the first half of 2008 to 5.4 billion euros at the end of the year.
In addition, Renault's Japanese partner Nissan on Monday estimated it would incur an operating loss of 180 billion yen (1.96 billion dollars) for fiscal 2008, which would be the first operating loss for Nissan in 14 years and the first loss since the partnership with Renault was formed in 1999.