This week a catchy jingle aired right before the news broadcast on the public TV channel France 2, reminding viewers that from now on, prime time evening programming would start 15 minutes earlier because advertising was being banned. As of Jan. 5, after 8:00 p.m. there are now no commercials on public television in France and commercials will be phased out entirely by the year 2011.
French President Nicolas Sarkozy's plan to pull ads as part of a move to restore the quality of the nation's public television was approved by the National Assembly towards the end of last year and also allows Sarkozy to choose the chief of the French public broadcasting company, France Télévisions. The boss previously was appointed by an independent body.
"If we keep commercials we are subjecting ourselves to the tyranny of audience ratings. And this always means the worst programming dumbed down to lowest levels," Sarkozy said last February while announcing his reform plans. "That's ok for private stations, but public television must be different. It must lift people up and excite their curiosity, conscience and intelligence."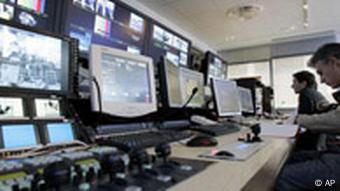 Does making TV fit for the French start with banning ads?
Nex taxes make up for ad losses
The new ban will be offset by two new taxes: a 0.9 percent tax on revenue of Internet service suppliers and telephone operators, and a tax on advertising revenue of private TV channels ranging from 1.5 to 3 percent.
But detractors claim that Sarkozy's move to ban ads is really just a camouflaged boost for TF1, the most widely watched station in France, and which is also owned by Martin Bouygues, a long-time friend of Sarkozy. Such critics expect that TF1 will win much of the advertising lost by France's public networks.
Jean-Francoise Tealdi, a union leader at France Télévisions, told Deutsche Welle that Sarkozy's reforms will impoverish public broadcasting and compromise its independence.
"This is a return to 40 years ago when the political leaders chose the television directors. Back then the public broadcaster didn't serve the people like it does today," he said. "It was basically state-run television like in Eastern Europe. And that's what Mr. Sarkozy is taking us back to."
Tuning in to "France Sarkozvision"?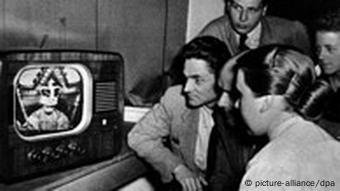 Sarkozy seems set on the tried and true BBC as a model for French TV
Public television staff walked off the job last week to protest the changes and several midday newscasts were scrapped.
Defending his reform, Sarkozy has said that the ban on advertising is a major step toward his goal of modeling French public television on Britain's BBC. But left-leaning newspaper Libération has called the president's reform a pretext to turn France Télévisions into "France Sarkozvision."