Thirty minutes in to the game that had long looked as if it would define their season, Freiburg were staring down the barrel of relegation. Cologne, winless and so hapless all season, had raced out to a three goal lead in a wild, snow-laden clash on Sunday.
But a stirring four-goal comeback, capped by a pair of Nils Petersen penalties at the death, provided a little breathing space for Christian Streich's side and all but sealed Cologne's fate before Christmas.
Petersen was on the spot again less than 60 hours later, making it three converted penalties in half an hour of football, as the Black-Forest club upset the odds to beat high-flying Gladbach. Rather than looking at an ever-increasing gap to safety, Freiburg had suddenly leapt to 13th in the table.
"The Cologne game had a significant impact on today. The team has been playing the right type of football," Streich said after Tuesday's win. "This was an excellent game for our situation. We deserved to win."
Something a little different
While Freiburg's football has indeed improved of late, their two wins this week have freshly demonstrated the unity and work ethic that the charismatic and idiosyncratic coach has instilled in the club since his appointment six years ago.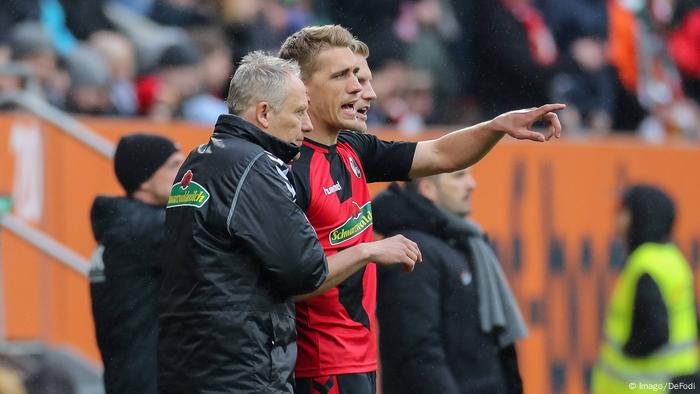 Streich and Petersen have established a strong working relationship
Petersen, who now has a goal every 113 minutes in the Bundesliga this term, recently told German news magazine Focus of the unusual but stimulating atmosphere his 52-year-old boss has created at the club.
"In the dressing room, we don't just talk about the team lineup but also about (US President) Donald Trump and (Turkish President) Recep Tayyip Erdogan. We have an American and two Turks on our team, and the coach wants to know their opinions. It could be that I'll soon have to say something about [right wing German political party] the AfD because the party got so many votes in the region where I grew up [Saxony]."
Despite his goal-scoring form and an impressive transfer policy that has seen the likes of Max Philipp, Vincenzo Grifo, Roman Bürki, Matthias Ginter, Max Kruse and Omer Töprak leave for big money in recent years, Petersen said Streich is the man that makes the club.
"Friends of mine watch every one of his press conferences," the 29-year-old former Bayern Munich and Werder Bremen striker said. "Streich has a certain wisdom and shares his insights – like for instance when he says that as time goes on the probability of war in this part of the world is increasing. Here the coach is the star and he attracts the interest of the media."
An upturn in form
While Petersen may consider his boss the main attraction, Freiburg's form has also turned plenty of heads. While their comeback against Cologne could, at least in part, be attributed to the vulnerability of their opponents, the victory over Gladbach, who had beaten Bayern Munich just over a fortnight previously, was all about Freiburg. Streich's men had 24 shots to Gladbach's 5 and constantly troubled their opponents while remaining compact defensively.
"We didn't do enough to take something from the game. We never really got into the match and have to accept that Freiburg were just the better team today," admitted Ginter, who is now at Gladbach, after the defeat.
But Streich, who qualified as a teacher after injury cut his playing career short and rides his bike to home matches, has been around too long to get carried away with his side's recent success, which comes on the back of a seventh-place finish last season.
"We now have 18 points on the board and just have to keep plugging away, because we're still very much involved in the relegation battle," he said after Tuesday's win.
That may well be so, but with Streich's cerebral methods and an attacking spearhead in fine form, Freiburg can start looking upwards once again.