Lucas Piazon, on loan from Chelsea, struck a spectacular late winner to deny Hamburg another vital point on the road to staving off relegation. Hamburg did eventually break their scoring duck - but would set a new negative record in the Bundesliga after 507 minutes without a goal.
The Northern Germans came out like a house on fire, but lacked the composure to break their scoring drought. By the midway point of the first-half, Hamburg's new record was broken, eclipsing the previous mark set by VfL Bochum in the 1979-1980 season.
Despite seemingly being in full control, Haris Seferovic found the back of the net moments before the half-time interval. Some players slumped to the turf in disbelief as the half-time whistle was blown.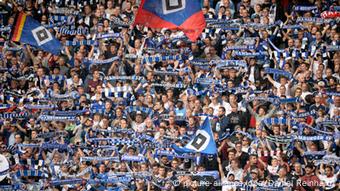 Hamburg fans left optimistic, despite losing last-gasp winner
To their credit, and new coach Joe Zinnbauer's, Hamburg didn't hang their heads, and in the 58th minute, the curse was over. Nicolai Müller latched onto a ball from Lewis Holtby and netted the club's first goal of the 2014-15 season. Müller's delight was replicated right across the stadium.
Hamburg sensed a first win could also be on the cards and pressed but couldn't find a way past Frankfurt keeper, Felix Wiedwald, filling in for the injured Kevin Trapp. But in agonising fashion for the home side, an outstanding piece of individual brilliance was to be their downfall.
In the last minute of regulation time, Frankfurt's substitute Piazon curled in a stunning free kick - his first Bundesliga goal since arriving from England - that left Hamburg keeper Jaroslav Drobny rooted to the spot.
The 2-1 win takes Frankfurt to seventh in the table, while Hamburg are mired at the very bottom of the league table with Werder Bremen and Freiburg in touching distance.
Augsburg squeak by Hertha Berlin
Earlier in the afternoon, a first-half penalty was enough for Augsburg to seal a win over tepid Hertha Berlin.
Sunday's early game often resembled a professional wrestling bout rather than a football match. Ironically, it was one of the softest moments of contact that ultimately proved the decider, as Augsburg ran out one-nil winners in the end.
With the chance at stake to put distance between themselves and the bottom of the table, Hertha Berlin and Augsburg both started cautiously. Hertha man-marked Augsburg playmaker Daniel Beier, while the hosts were careful to keep an eye upon free-kick specialist Ronny.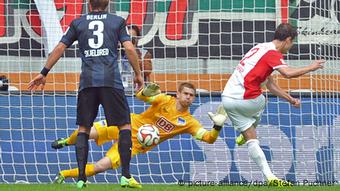 Verhaegh slots home - and was subbed after a serious head injury.
Just before the half-hour mark, Augsburg put together a neat counterattack when Hertha keeper came off his line and Raul Bobadilla hit the deck after the slightest of contacts. Paul Verhaegh, Augsburg's club captain, converted the resulting penalty for his second of the season and to bag the three points.
Check out our Live Ticker below to follow both games as they happened.