A day after a group of some 300 protestors went on a rampage breaking shop windows and vandalizing parts of downtown Paris, France's Interior Minister Bernard Cazeneuve on Friday vowed to crackdown on "visionless people inspired solely by violence."
For two weeks disenchanted youths protesting against the Socialist government's labor law reforms have been holding nightly protests in Paris's Place de la Republique square and other cities across the country.
The Nuit Debout (Up All Night) movement has been largely peaceful, but on Thursday night police used tear gas and pepper spray to disperse a small group of violent protestors who broke off from Republique square. Several were arrested.
The vandalism occurred hours after French President Francois Hollande vowed during a two-hour televised debate to stick with the new labor laws.
Earlier on Thursday protestors scuffled with baton-wielding police, who fired tear gas.
Some demonstrators with the leaderless movement told BFM-TV broadcaster the Nuit Debout movement was not associated with violent protestors.
While the budding youth movement was triggered by divisive labor reforms, the protests that began on March 31 have since morphed into a broader social phenomenon against the political status quo and a neoliberal economic system that has spread inequality and unemployment.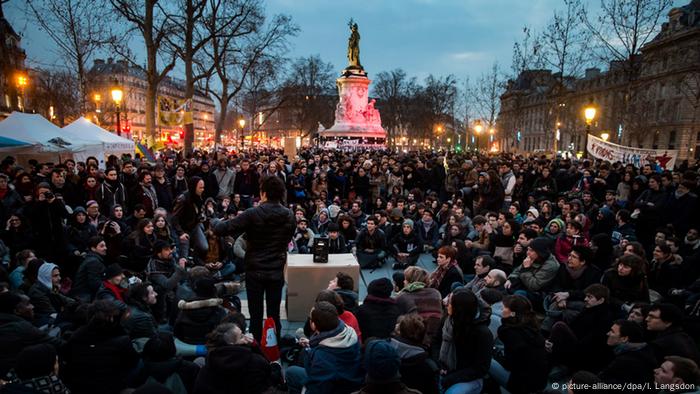 All night sit-ins have been held in Paris's Place de la Republique square since March 31.
The nascent movement has drawn comparisons to the Occupy Wall Street movement four years ago and the anti-austerity Indignados movement in Spain five years ago. It has also started to gain traction in other countries in Europe.
Paris police said there were no plans to break up the nightly protests, although a state of emergency remains in effect following November's terror attacks. The state of emergency gives the government the power to break up gatherings, but an increasingly unpopular Hollande would like to avoid an incident ahead of elections next year.
Answering a question about Nuit Debout during last night's debate, Hollande said: "I find it legitimate that the youth - in relation to the world as it is, in relation to politics as they are - want to express themselves and want to have their say."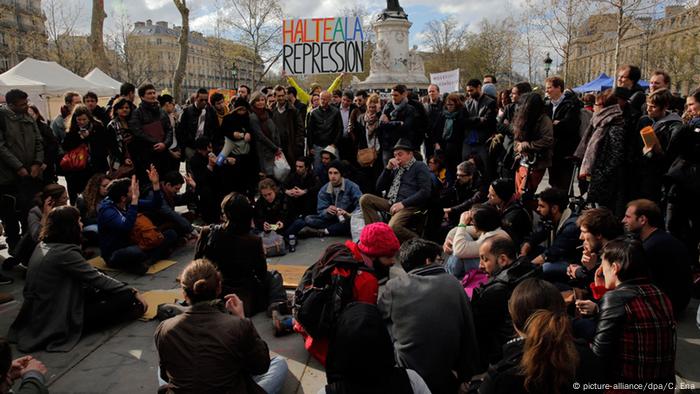 General assemblies have been formed to discuss ideas and organize.
cw/kms (dpa, Reuters)