French officials warned that media could break the law by publishing a presidential candidate's hacked emails. On Friday, Emmanuel Macron's En Marche (Forward) campaign claimed that cybersnoops had dumped embarrassing emails online just before the French choose between the neoliberal former economy minister and his farther-right rival, Marine Le Pen, in Sunday's presidential runoff.
By Saturday, election officials were asking media to "show a spirit of responsibility and not to relay these contents, in order to not alter the integrity of the vote." If the appeal doesn't work, they have a warning, too: "The dissemination or republishing of such content, obtained fraudulently and in all likelihood possibly altered, could be subject to punishment."
The whistleblowing website WikiLeaks posted a link to the documents on Twitter early Saturday, saying they included many tens of thousands of emails, photos and attachments. France's extreme right has had a field day with the documents, which have circulated widely on Twitter under the hashtag #MacronLeaks.
'Doubt and misinformation'
In a statement released late Friday, ahead of a midnight deadline to conclude campaigning, Macron's team claimed that hackers intended to "seed doubt and misinformation" before Sunday's runoff vote for the presidency. The campaign also claimed that false documents had been mixed with the leaked files. It did not specify which files are false, and the claim is impossible to independently verify.
"Throughout the campaign, En Marche has constantly been the party the most targeted by such attempts, in an intense and repeated fashion," the campaign claimed in its statement. "The aim of those behind this leak is, all evidence suggests, to hurt the En Marche party several hours before the second round of the French presidential election."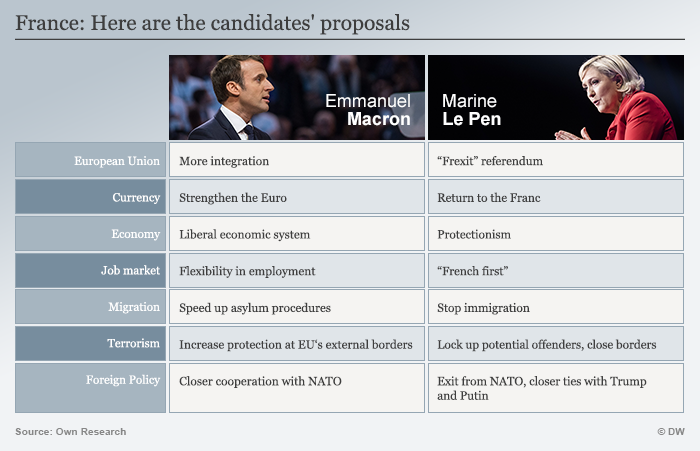 In the final pre-election polls - released after Macron scored what many believed to be a knockout blow in Wednesday's debate but ahead of the hacking scandal - he led the anti-immigrant Le Pen by about 25 points. Macron has benefited from broad distaste for the far-right Le Pen, at whom protesters hurled eggs during a recent campaign stop. Nevertheless, 48-year-old Le Pen has brought her far-right National Front party, once a pariah for its racism and anti-Semitism, closer than ever to the French presidency through a racist and xenophobic campaign.
Many French centrists worry that the published emails could kill any remaining enthusiasm for the 39-year-old Macron, who endorsed "reforms" to gut labor protections during his tenure as economy minister. Only about two-thirds of eligible voters plan to turn out on Sunday. Fifty thousand police officers, gendarmes and soldiers will be deployed to keep the election day peace across France.
mkg/tj (Reuters, AFP, dpa, AP)