Anti-terrorism squads arrested five people across France on Tuesday, just days before the second round of the presidential election.
The raids took place in towns near the cities of Rouen and Lille in northern France, and in Roanne in the central part of the country.
The suspects are between 18 and 24 years old. Weapons were also seized during the raids, including pistols and machine guns, a source told the Agence France-Presse. The guns belonged to a man close to one of the suspects, who legally owned the weapons.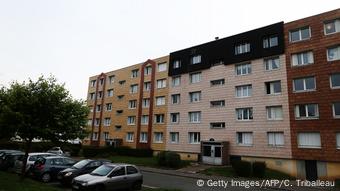 A man was arrested by anti-terrorist squads at this building in Bihorel, northwestern France
High security
The raids come just two weeks after a deadly attack on a French policeman on the Champs-Elysees avenue in Paris.
The so-called "Islamic State" (IS) claimed responsibility for the attack.
It is not certain if Tuesday's raids were in relation to the election on Sunday or the April 20 attack.
France is under a state of emergency following recent Islamist terrorist attacks that have killed more than 230 people since January 2015.
kbd/cmk (AFP, AP)