Losing a final is the bitterest pill to swallow but Eintracht Frankfurt don't have to look far for an example of how to overcome their disappointment.
Borussia Dortmund had to wait four long seasons to finally clear the final hurdle and lift the German Cup but the Black and Yellows were made to work to end their five year Pokal drought.
On paper, opponents Frankfurt appeared to be the clear underdog ahead of the cup final but in reality the Eagles were quite close to getting the better of Dortmund. Marco Reus picked up his first major title along with another injury - this time a slight tear to his cruciate ligament that will keep him out for 6 to 8 weeks .He said his club's history of final failures made Saturday's win all the sweeter.
"It's absolute euphoria, finally we get to win after five finals," he told DW, adding the lost 2013 Champions League final against Bayern Munich to the unlucky tally.
For Frankfurt's keeper Lukas Hradecky, who brought down Christian Pulisic to give Pierre-Emerick Aubameyang the chance to dink home the winning penalty in the second half, emotions couldn't have been more different.
The blame game
"It was my fault, I've apologized to my teammates," he said, with a look in his eyes as he fielded questions from journalists in the mixed zone tunnel that said it all: So close, yet so far.
But, as if keen to learn from the durability of his opponents, the Finn was quick to reflect positively on the progress the squad has made and what they can do in the future.
"Last season we had to play in the relegation playoff and this year we reached the German Cup final," he said, referring to the impressive progress made by Frankfurt over the past twelve months. Whether Hradecky will be around to continue that development remains to be seen; the goalkeeper is yet to put pen to paper on a new contract.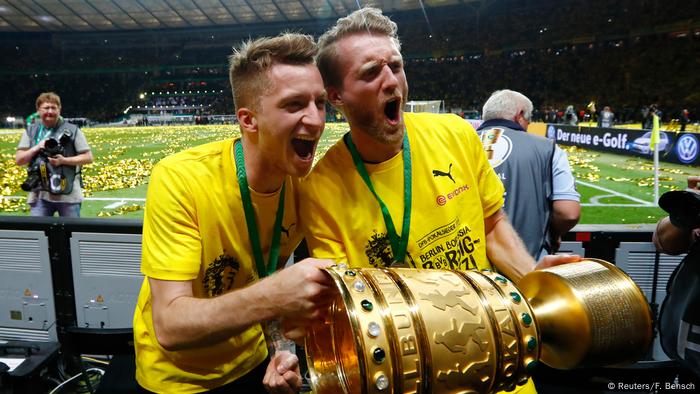 Marco Reus said this victory is sweeter after previous defeats
Hradecky now knows exactly how Reus and co have felt, and just like them, he's not about to give up. "I need to experience this once again," he said.
Future looks bright for jubilant BVB
For Dortmund, their jubilation was only marginally tempered by the injury that forced Reus off at the break and the question marks surrounding the futures of Thomas Tuchel and Aubameyang.
But in Ousmane Dembele, who opened the scoring with a lovely piece of individual skill in the 8th minute before Ante Rebic's equalizer, BVB have a vision of the future with or without their leading men.
And they also have a trophy, one that even Kovac admitted they deserved. "They were clearly the better side during the second half," Kovac told DW post-match. Dortmund were able to pick up their pace and put Frankfurt under pressure time and time again.
The Dortmund fans who flocked to Berlin and set off dozens of flares and smoke bombs wanted to see their team win at any cost – and finally they did just that. But all is not lost for Frankfurt, they needed only to look at the team lifting the trophy in the Olympic Stadium to salvage some hope.