The detonation ended what was described as a fierce firefight between militants and a national guard unit seeking to "thwart an anti-terrorist" operation in the Tatouine governorate Wednesday.
A second militant was reportedly shot by police during the raid in Tataouine, the Interior Ministry said. "One terrorist element was shot dead while the other detonated his explosives belt, killing two officers and two agents of the national guard," the ministry said.
Tunisia has been beset by extremist violence as it struggles to move forward in a fragile economic and political environment.
Two attacks in 2015 on a luxury beach resort in Sousse and the Bardo Museum, for example, together killed 60 people, mainly foreign tourists, with the "Islamic State" group claiming responsibility for both.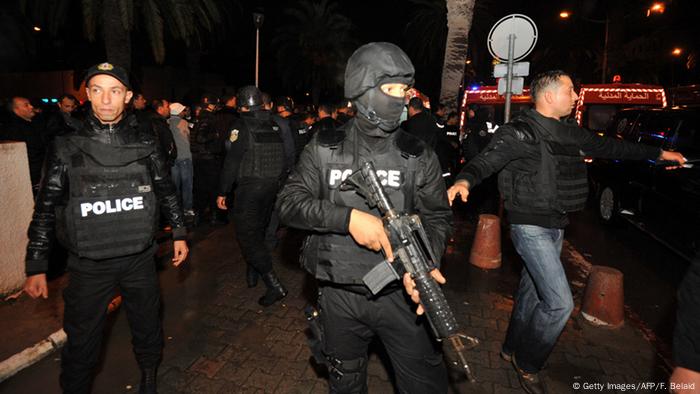 Tunisian police block the road leading to the site of an explosion on a bus transporting Tunisia's presidential guard in central Tunis in November 2015
Thwarting sychronized attacks
Meanwhile, elite Tunisian police squads said they had killed two "dangerous armed terrorists" and arrested others in raids earlier of Wednesday outside the capital.
They said the operation had been designed to abort plans for "synchronized attacks." By mid-afternoon special forces had arrested 16 suspects, Interior Ministry spokesman Yasser Mesbah told DPA news agency.
The ministry said the suspects had come from different parts of the country and gathered in Menihla, a working class area about 10 kilometers (6 miles) from the capital Tunis and known as a gathering place for religious extremists - and Ettadhamoun, which neighbors Menihla.
A suicide bomber who killed 12 presidential guards in central Tunis last November had been a 26-year-old street vendor from Menihla.
The ministry did not provide the identities of those killed and arrested, but said that Kalashnikov rifles, pistols, grenades and ammunition had been recovered in the operation.
jbh/kms (Reuters, AFP, dpa)