A sudden explosion turns a stroll around the old town center in the heavily populated Turkish metropolis of Istanbul into a nightmare. A suicide bomber blew himself up in the midst of a group of tourists, killing at least ten Germans. And it was not even the first terror attack on tourists this year. A few days prior tourists in Egypt's Red Sea resort of Hurghada were injured in a knife attack, carried out by two men.
"Terrorists have added a new dimension by clearly targeting tourists ", Martin Lohmann, managing director of the NIT Institute for tourism research in Kiel tells us. Five years after the Arab Spring revolution the southern and eastern Mediterranean area remains unstable. The tourism sector speaks of "instabilities".
In its December edition the FVW tourist publication already noted that bookings for 2016 were being made more cautiously. Bookings for destinations in the eastern Mediterranean were markedly slower than Spain or Portugal.
Tourism in Turkey
This trend comes despite Turkey in the past few years having been among those Mediterranean countries to have made gains. The number of German tourists traveling to Turkey had been on a steady increase since 2012. Turkish authorities say in 2015 some 5.5 million guests from Germany visited Turkey. Making Turkey, after Spain and Italy, the most popular travel destination of German tourists.
But after this tragic start to the year it is unclear if Turkey will manage to stay as popular. Traditionally the beginning of the year is when summer holiday bookings are made. But there might be hope for Turkey yet as Lohmann tells us "the effect of these kinds of attacks tends to be regional and short-lived".
On Tuesday Germany's foreign ministry, though not warning against traveling to Turkey, did advise Germans to avoid large groups in public places and tourist attractions in Istanbul and other big cities.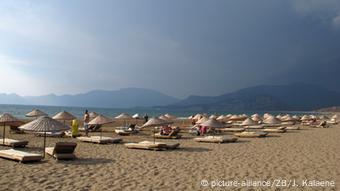 Iztuzu beach on the Mediterranean Sea, Turkey
A spokesman for TUI tour operator said more than 95 percent of tourism activities are concentrated along the Mediterranean beaches in western Turkey. Despite Istanbul having been the target of attacks in the past, Turkey still managed to develop well as a travel destination. Whether it will be able to do so after this latest outrage, the TUI spokesman added, "remains to be seen".
North Africa and Egypt
How quickly holiday makers can turn their back on a destination became evident in Tunisia. The country over the past few years managed to recover from the Arab Spring unrest to become one of the most popular travel destinations in northern Africa, clocking up over 400,000 visits by German tourists.
But following the attacks last year on the Bardo museum in Tunis and the shooting of defenseless tourists on a beach near Sousse the holiday makers, so vital for the local economy, are staying away. The German travel association DRV says the decline in bookings in 2015 could be measured in double digit percentages, despite the German Foreign Ministry never issuing a travel warning for Tunisia. And TUI said the country had so much promise, their spokesman adding: "the hotels and their range of activities had been greatly improved".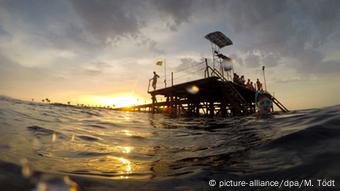 Marsa Alam on the Red Sea, Egypt
Egypt had also bounced back from the decline in holiday makers caused by the Arab Spring unrest. Bookings from Germany last year increased markedly, despite the Russian plane crash, thought to have been caused by a bomb, on the Sinai peninsular. It remains to be seen if the recent knife attack in Hurghada will have any effect, according to TUI. But repercussions, should it have an effect, would be considerable as more than 90 percent of German tourists, according to the DRV head to the beaches and resorts on the Red Sea mainland around Hurghada and Marsa Alam.

Morocco, which is relatively stable, has benefited from the unrest in other Maghreb region countries. From 2012 to 2014 the number of German tourists more than doubled, with the DRV marking another ten percent increase in visitors last year.
Spain may profit

Germans refuse to have their holidays spoiled, which is evident in the growing investment in travel over the past few years. But the tourist sector is already aware that the flood of holiday makers to the Mediterranean this year will be predominantly flocking to western regions. Spain should profit considerably from the instability in Arab countries, as will the all-time most popular holiday destination of German holiday makers - Germany itself.