It used to be that dining out in Germany's capital meant tepid Thai, tasteless tandoori, and so-called salsa that was more at home on tortelloni than tortillas. Adventurous diners were told apologetically, "Sorry, we make it mild because Germans don't like hot food," by waiters who willingly brought supplemental sauces to the table to make up for the blandification of their dishes.
So lacking was the welcome warmth of spicy food that chili lovers took to smuggling habaneros, cinnamon gum and hot pepper vinegar from home in our suitcases, and posting plaintive laments online that outline our desperation for flavor.
But now, it seems Berlin is turning up the heat. To the relief of many pepper poppers, during the last couple of years, authentically spicy Mexican, Korean, Cajun and Indian restaurants have popped up, from hole-in-the-wall greasy but delicious mini cafes, to hip and trendy soju and kimchi bars that let you BiBimBap (rice with mixed vegetables and sometimes meat, topped with a fried egg and hot pepper sauce) 'til you drop.
And, you can now purchase Berlin-made chili sauces from Burner's at Kreuzberg's Turkish Market, as well as tacos from an occasionally roaming food truck.
Some don't like it hot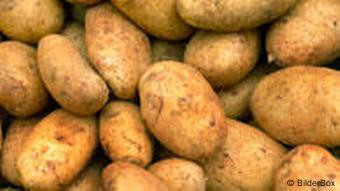 Potatoes are a staple, even if they're not the only thing Germans eat
To its credit, however, German food does not only consist of mindlessly bland potatos. There are horseradish soft-cheese spreads, pungent mustards, and sharp ginger gummy candies to be found on grocery store shelves - not to mention the currywurst, Berlin's signature fast food dish featuring a sausage doused with ketchup and curry powder.
What's more, a search of your local Lakritz shop will probably turn up licorice that will give you a kick in the pants. But German versions of foreign tongue-tinglers mean that the heat is often lost in translation. There's simply no excuse for "sweet chili" potato chips that are more sugar than spice, and jarred salsas that put you to sleep rather than wake up your taste buds.
So it's been quite a tangy surprise to find a host of native-born Capsaholics, self-named after Capsicum, a botanical word for pepper. I recently stumbled across Felix Eichholtz's spacious Pfefferhaus (Pepper House) hidden in a row of shops behind the monstrous pink Alexa mall near Berlin's Alexanderplatz. The shop, the second in a mini-chain started in Hannover, stocks such appealingly named concoctions as Dave's Burnin' Hot Nuts, Ass-Kickin' Microwave Popcorn, and Atomic Fireballs, as well as a plethora of pepper sauces.
Imports and inventions
A large number of Pfefferhaus' goods come from the Caribbean. Most, however, hail from the US, which is a logical source for salsa, as it dethroned ketchup for most consumed condiment in America back in 1991.
Still, a good range are home grown, like the best-selling Suicide Sauces, from Grasellenbach in the central German state of Hesse, which blend heat with unusual combos like cranberry and cinnamon or apple and curry.
Then there's Hamburg's own Cola Rebell, a cola energy drink flavored with chili and ginger that comes in three strengths. The story goes that the developers were craving something spicy while out at a bar, and poured some chili sauce into a glass of Coke. They went on to create a drink range, and now even a "solid cola" - a hard-candy version of the beverage.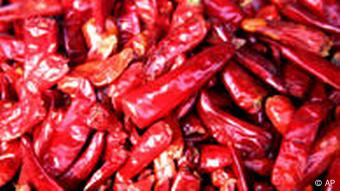 A double portion, please
According to the sales assistant, a majority of Pfefferhaus customers are Germans. And one of the store's partners is a restaurant called El Loco that claims to be the hottest restaurant in Berlin - but since it touts itself with a tour that includes a strip show, the spice may not be to everyone's taste.
A taste for the chase
Even as the good (hot) stuff becomes more available, for some, it's the thrill of the chase as much as the thrill of the taste that makes it all worthwhile. So, many will continue swapping tales of true scorchers, combing the corners of the city for authentic Korean food in a dark hole-in-the-wall, ordering tortillas and salsa for delivery from a Mexican guy on a bike, and searching out scotch bonnet peppers in Asian markets.
As for me, I'm going to keep importing Texas Pete Pepper Sauce and thanking my lucky stars for care packages stuffed with Red Hots and Ghost Pepper Spicy Watermelon Candy - even though I'm still shaking chili lime salt out of the lining of my suitcase.
Author: Susan Stone
Editor: Kate Bowen